Bread is a homestead staple, and that's why YOU should learn how to bake it. If you aren't craving bread, how about sourdough English muffins instead? I have the perfect homemade sourdough English muffin recipe, and I know you'll love it! These easy-to-make sourdough English muffins have become a weekly scheduled bake since I first tried them about a month ago.
Seriously, this cast iron recipe is so incredibly easy. I recently purchased a cast iron skillet, and I've been obsessed with it! You can read about my purchase here. The cast iron makes these tasty English muffins a breeze—no oven baking required! The dough rises in the skillet and the muffins bake right ON the skillet.
This recipe may seem time consuming, but it's a simple overnight sourdough recipe. (1) Mix the water, flour, and sourdough starter together; (2) allow it to ferment and double for 12-24 hours; (3) then add salt, baking soda, and honey; (4) put it in the cast iron skillet and get cookin!
I often think of my grandma, who was born and raised on her parent's homestead. She loved her mom's homemade bread, and I can only imagine how tasty it was! Nowadays, we are used to store-bought bread products filled with preservatives and difficult-to-pronounceable chemicals. After baking your own bread (in this case tasty homemade English muffins) you'll never go to the store for bread again! I so wish I could travel back in time to sit down at my great-grandma's table for a meal. Did she ferment sourdough English muffins at the table for breakfast? Possibly.
This recipe does require a sourdough starter. Back in the homestead days, before packet, store-bought yeast, families retained sourdough starter cultures and passed them from generation to generation! The sourdough starter is essentially used in place of yeast and is a living organism you feed and nurture, haha. I will write more about it soon!
After the starter, water, and flour sit and double in size, the dough will be stretchy but not super sticky. It feels kind of magical because a dough this damp is usually sticky, but this one isn't that sticky at all!
A secret tip for this recipe: use wide–mouth, quart-sized jar ring to give the English muffins the perfect shape!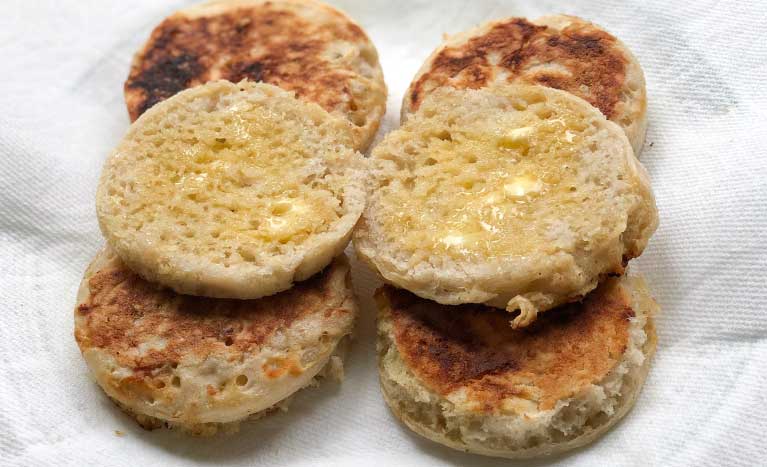 Sourdough English Muffins
Bread is a homestead staple, and that's why YOU should learn how to bake it. If you aren't craving bread, how about sourdough English muffins instead?
Ingredients
1/2

cup

fed sourdough starter

1

cup

water

2

cups

bread flour (or all-purpose flour)

1

tbsp

honey

1

tsp

baking soda

1/2

tsp

salt

2

tsp

butter
Instructions
Mix together the sourdough starter, water, and flour in a glass bowl. Cover the top with a cheese cloth or lightly with plastic wrap. Allow to ferment until doubled – about 12-24 hours. The longer it sits, the more sour flavor it acquires.

After fermenting, add in the honey, baking soda, and salt. Mix together.

Heat your cast iron skillet on low for a few minutes and allow the butter to melt. Position greased wide mouth jar rings in your skillet. Add about 2 tablespoons of dough to the center of the rings. Allow to rise for 10 minutes then increase the heat to medium.

Continue to cook until browned then flip to the other side and cook for 3-4 minutes until browned as well. Remove from heat and gently remove the jar rings.