Merry Christmas!!! I absolutely love the holiday season because the cheer around Christmas always lifts my spirits! You know what else lifts my spirits? Baking Holiday Plates! Bake this specific recipe with me here: The Worlds Best Cookie Vlog
I don't know about you, but our Christmas seasons were showered with cookies and baked goods. Every year we celebrated a centuries-old family tradition: baking Goodie Platters, aka Holiday Plates with scrumptious treats—from salted nut rolls to frosty Santa cookies to chocolate chip chewies—for special, hand-delivery to friends and neighbors!
It was a great opportunity to say Merry Christmas! and see what they were up to lately. They always seemed delighted to open their door and find Gub Ma and I standing there on the porch bathed in reddish green sparkly light shining down from Reindeer heaven!
This year, I tried a new addition to the plates, and it turned out decadently delicious:
Andes Mint Double Fudge Cookies
A few Months back, while standing in the checkout line, I reached over and grabbed a pack of Andes Mint chips from the impulse shelf. I had never seen those in the baking isle, and I thought I could definitely use them somehow. They sat forgotten in my pantry until Christmas rolled up.
There I was: in the pantry, pondering what to do this year. The Andes Mint chips were there on the shelf calling out to me. I also had a classic fudge recipe for cookies, so I decided to just throw in the mint chips to create Andes Mint Double Fudge Cookies.
Usually, my default double-fudge cookies are thin and chewy, but this time I spruced it up a bit by making them soft and fluffy. I envisioned a minty fresh fluffy chewy confection, so I took two of my favorite cookie recipes and combined them to make the perfect minty cookie delight.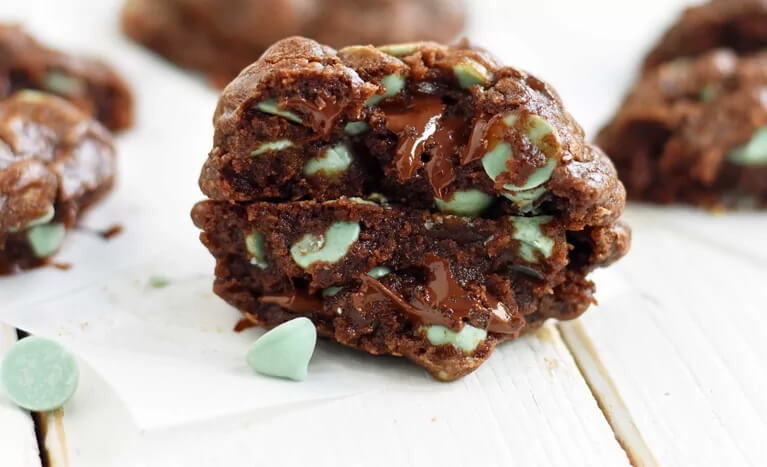 Andes Mint Double Fudge Cookies
This is a special recipe I made combining a number of recipes together. The results are delicious!
Ingredients
1

stick butter (1/2 cup)

1/2

cup

white sugar

1/2

cup

brown sugar, packed

1

egg

1

tsp

vanilla extract

1

cup

all-purpose flour

1/2

cup

cocoa powder

1

tsp

baking soda

1/4

tsp

salt

2

tbsp

milk

1 1/4

cup

Andes Mint Baking Chips

1/4

cup

chocolate chips
Instructions
Preheat oven to 350F. Line a baking sheet with parchment paper and set aside.

Melt your stick of butter in the microwave until PARTIALLY melted (about 5-15 seconds if the stick is fresh from the fridge). It will be part liquid and the other part will be whole but soft. We don't want it completely melted because that will make the cookies not as soft!

Combine the partially melted butter with the sugars and cream using a stand mixer or a hand mixer until well combined (about 2-3 minutes). Blend in the vanilla until incorporated.

Add in the egg and DO NOT OVERMIX! Mix until partially incorporated but you can still see the yellow of the yoke. This is also an important step because if over-mixing the egg, will create stiff cookies!

In a separate bowl, combine the flour, cocoa, baking soda, and salt. Whisk together until evenly distributed. Slowly add the dry ingredients into the wet ingredients while mixing. Add until all ingredients are incorporated and the batter is smooth. Add in the milk while mixing together.

Fold in the Andes Mints and chocolate chips. Add more or less chips depending on your preference.

Use a cookie scoop, or your hands, to roll together about 2 tablespoons of dough into a ball and place on the baking sheet fitted with parchment paper. You can sprinkle the balls with more Andes Mint chips if you desire.

Bake 10-12 minutes. Quickly transfer to a wire rack to cool.