Lasagna: an easy family dinner. I love making lasagna and enjoying the leftovers by myself for 3 to 4 days. I have the best lasagna recipe that is simple to cook and has been in my family for as long as I can remember.
Lasagna was one of the first dishes I learned to make, and I remember sitting on the counter helping my mom assemble this dinner work of art. I didn't realize at the time that the sauce pulls the dish together. My mom has her lasagna recipe handwritten on an old notecard and I ask her to send me a picture every time I make it—someday I will finally save it to my phone. This lasagna sauce is also a great spaghetti sauce!
This classic homemade lasagna will keep you aching for another bite or slice until you physically cannot eat any more—trust me, it happens every time I make it. The spices in the sauce add a hint of sweetness that is overshadowed by the rich tomato flavor. It may seem wild that the sauce is slightly sweet, but just try it.
To begin making this lasagna (or spaghetti sauce), cut up the onion, carrots, celery, and garlic. Warm up olive oil in a sauce pan over medium heat and add in the onions and garlic. Cook until almost translucent. Add in the carrots and celery, and cook until soft. Pour in the tomato sauce and tomato paste and sprinkle in the spices. Bring to a simmer over low heat for 10 minutes, allowing the flavors to blend. You can add burger to this recipe if you desire meat.
Once the sauce is prepared, assemble the lasagna. I use oven-ready lasagna noodles, so I follow the instructions on the package for baking them. I ladle a layer of sauce on the bottom of a 9×13 inch baking dish; then I layer on the noodles, cheese; then noodles, sauce, cheese—repeating these layers until I use all the noodles or fill the baking dish. Bake according to the lasagna box instructions. If you boil the noodles and they're already baked, bake this dish for 20-25 minutes until the sauce is bubbly and the cheese is melted. If you added in burger, layer it into the lasagna as desired.
Let's get baking!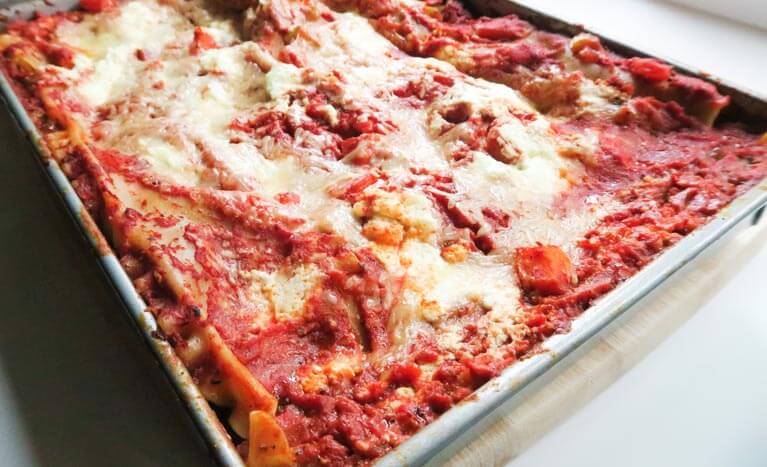 Family Lasagna Recipe
The best lasagna recipe that is simple to cook and has been in my family for as long as I can remember.
Ingredients
2

pounds

burger (optional)

2

tbsp

olive oil

1

onion, chopped

4

cloves garlic, diced

2

carrots, chopped

2

stalks celery, chopped

3

cans

tomato sauce

1

small can tomato paste

2

cups

water

1/4

tsp

allspice

1/4

tsp

nutmeg

1/4

tsp

cinnamon

1/4

tsp

oregano

1/4

tsp

basil

1/4

tsp

Italian seasoning

1

large tub ricotta or cottage cheese

1

16oz

package shredded mozzarella

1

4oz

container shredded parmesan
Instructions
Preheat oven to 375F and chop the onion, garlic, carrots, and celery. Heat the olive oil over medium heat in a sauce pan and add in the onion and garlic. Sauté until the onions are almost translucent and add in the carrots and celery—cook until tender. Add in the tomato sauce, tomato paste, water, and seasonings. If using cooked ground beef, add it now. Heat the sauce over medium heat, then bring to a simmer over low heat and simmer for 10 minutes.

Prepare the lasagna noodles according to package instructions. If they are straight-to-oven noodles, cook the lasagna according to the instructions.

Layer the lasagna in a 9×13 inch baking dish. Start by coating the bottom with sauce. Add a layer of noodles, sauce, cheese, noodles, sauce, and cheese, repeating until you are out of noodles or you fill the baking dish.

Cook according to oven-ready noodle instructions, or 20 to 25 minutes (covered with foil) if you already prepared the noodles.