As we emerged from the 2020 Corona pandemic, many of us realized our pantries were over-stocked with canned-goods. Let me teach you how to make the perfect homemade tomato soup using ingredients you may already have in your pantry or freezer! This meal is a favorite throw-together comfort food. 2020 brought at least one good thing: this creamy homemade tomato soup recipe.
With the virus raging across the planet, I put on my mask and hurried to the store for Campbell's tomato soup. I remember cracking open the can, dipping my finger in, tasting it, and deciding I wanted to make my own fresh tomato soup from scratch! So I did, and I definitely prefer the homemade soup taste! The great thing about this recipe is you can make a vegan tomato soup version by swapping out the animal butter for vegan butter. Easy peasy!
Have you ever tried COLD tomato soup? Sounds wild, but this recipe can be stored in the fridge for up to a week, and you can enjoy it right out of the fridge as well! YUM!
I recommend pairing this recipe with my Better Than Disneyland Grilled Cheese Sandwich recipe. Nothing says "Comfort!" like a grilled cheese and tomato soup duo. Let's get cookin!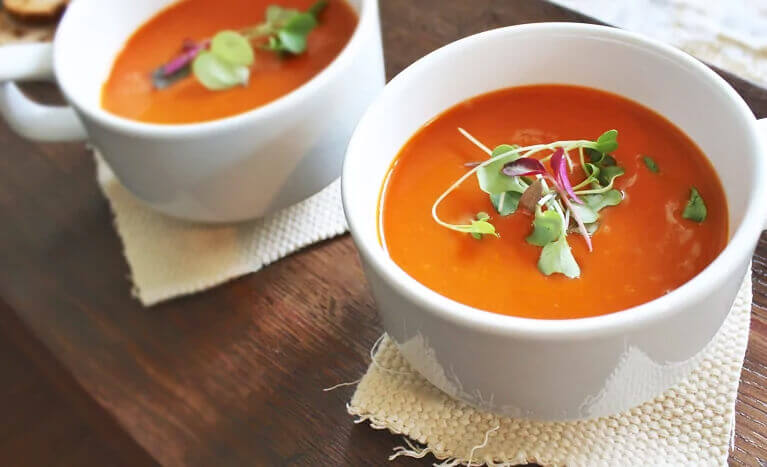 Best Ever Tomato Soup
Sounds wild, but this recipe can be stored in the fridge for up to a week, and you can enjoy it right out of the fridge as well! YUM!
Ingredients
2

tbsp

olive oil

1

yellow onion, chopped

If using frozen onion about 1 1/2 cups of sliced frozen onion

2

tbps

tomato paste

2

14oz

cans of diced tomatoes and their liquid

2

cups

vegetable broth

1/2

cup

Great Northern beans (canned or cooked)

1

tbps

salted or unsalted butter

1

tsp

brown sugar

Black pepper to taste

10-12 fresh basil leaves chopped, to taste

optional
Instructions
On a stovetop, warm the olive oil over medium heat in a soup pot. Add the onions to the warm, shimmering olive oil and sprinkle with salt. Stir occasionally until the onions are about translucent, about 8-10 minutes. Stir in the tomato paste and cook for about 30-60 seconds until fragrant.

Add the diced tomatoes and stir in the vegetable broth. Bring heat to medium-high to allow the mixture to come to a roaring simmer. Place the lid on the pot and reduce the heat to low while the mixture simmers.

Remove pot from heat and allow it to cool for a few minutes. Ladle the mixture into a blender, in batches if necessary. Add the beans, butter, sugar, and pepper to the blender. Blend the mixture into a smooth soup consistency.

Taste the soup and add additional seasonings as necessary. Add a pinch more sugar to tone down the acidity of the tomatoes. Add butter for a creamy, smooth flavor. Add salt and pepper to your desired preference.

Once your taste buds are happy, add in the basil (optional) and blend.