How about some comfort food?
This Butternut Squash Alfredo Pasta is just that! This cheesy butternut squash pasta is one of my staple recipes, and I make it quite often! IT'S DELICIOUS! If you need a change-up from traditional mac and cheese, this is your recipe!

You may expect butternut squash to give a weird flavor, but it doesn't! The butternut makes the Alfredo sauce extra creamy, adds nutrition to the dish, and provides a wonderful orange color to the sauce. Traditional baked mac and cheese can have an excessively cheesy flavor, so this butternut squash mac and cheese is the perfect trade if you want to keep the creamy but have less cheese-y!

This healthier mac and cheese alternative is definitely an easy, cozy dinner. It can be table-ready in 30 minutes, so no waiting around forever to eat and no big hassle to cook! It requires a saucepan and a pot to boil noodles—that's it! I prefer dinner recipes that don't use every dish in the house, leaving me with a massive mess.
Broccoli adds the perfect hint of healthy, vegetable flavor to this easy butternut Alfredo recipe, so I'd recommend adding some baked or steamed broccoli to the final dish! If you don't have any on hand or if you have picky eaters in the house, the creamy butternut mac and cheese holds up on its own! I love having peas in my other mac and cheese recipes like my vegan mac and cheese, so peas can even work here! I haven't tried it as I always add in broccoli, and peas would bring a more prominent flavor to the dish. One of these days I'll try this simple butternut squash Alfredo WITH PEAS!

I mentioned how simple this butternut squash dinner recipe is, but I mean: it's really simple. If you have frozen broccoli and canned butternut squash on hand, consider yourself halfway done! Well, not completely, but these items add to the simplicity of the dish. Of course, you can use fresh broccoli and butternut squash, but I generally have these two basic items floating around my kitchen, so I don't bother with fresh.

For this time around, I used a mix of whole wheat rotini noodles and mini penne noodles because I had these on hand. Both boxes were half full, so I used them both up! I generally just use one box of traditional penne. You can substitute any type of noodle for traditional penne.

Pro tip: The water the noodles cook in is liquid gold! Reserve some to add to your sauce later to make the sauce extra creamy and thick. We do it in this recipe!

Seriously, this creamy butternut squash pasta is one of my favorite comfort foods! This recipe easily feeds a family of 4, and leaves some leftovers.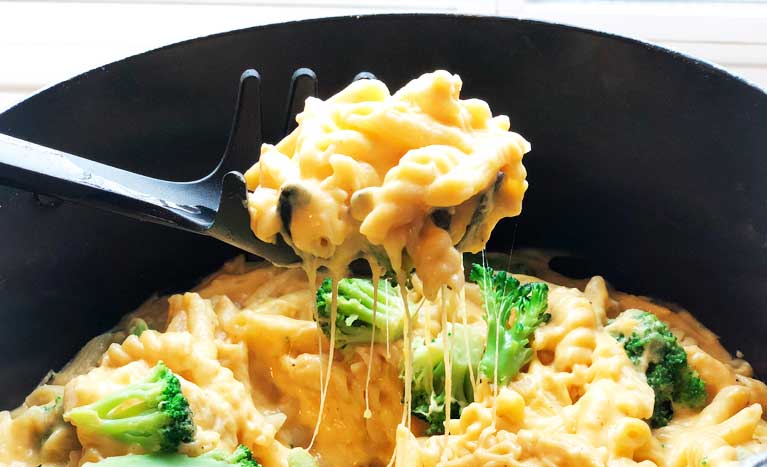 Cheesy Butternut Squash Alfredo Pasta
This Butternut Squash Alfredo Pasta is just that! This cheesy butternut squash pasta is one of my staple recipes, and I make it quite often!
Ingredients
1

16oz

box of penne pasta

4

cups

frozen broccoli

1/2

cup

butter (1 stick)

3

cloves garlic, minced

3

tsp

all-purpose flour

1

cup

heavy whipping cream

1

cup

milk

1/2

tsp

ground nutmeg

1

16oz

package shredded parmesan

1

15oz

can butternut squash
Instructions
Begin boiling the noodles in a pot. If you have a steamer to place on top of the pot, place it, pour in the frozen broccoli, and begin steaming the broccoli. If not, steam the broccoli in another pan by adding a half inch of water to the bottom of the pan and bringing to a boil. Pour in the broccoli and cover for 5-10 minutes until fork-tender. Alternatively, if you have fresh broccoli, place it on a baking sheet, drizzle with olive oil, salt, and pepper and bake at 400F for 20 minutes.

While the noodles are cooking, begin the alfredo sauce. In a large saucepan, melt the butter and sauté the garlic for 1-2 minutes. Whisk in the flour and slowly add in the whipping cream and milk and whisk until smooth. Bring the sauce to a boil over medium heat until thickened. Remove from heat and add in the nutmeg and parmesan. Stir until almost all the parmesan is melted (it will all melt later when the hot noodles are added). Add in the canned butternut squash and stir together. Season with salt and pepper to taste.

Once the noodles are done, reserve 1/2 cup of the pasta water and drain the noodles. Add the noodles to the butternut sauce along with the pasta water and stir until creamy and coated. Add in the broccoli.