If you love easy dinner recipes, then this one's for you:
Baked Skillet Cheesy Eggs and Potatoes
YUM! I constantly try to utilize all my produce in the kitchen, so it doesn't go to waste. In summertime, my fridge is full of produce I incorporate into one recipe or another.
I purchased a cast iron skillet this spring and I passionately bake or cook with it each week! I enjoy its versatility and the simplicity of cooking with a cast iron skillet. This potato skillet recipe is incredibly easy and uses ingredients you likely have in your kitchen! Not only can this vegetarian cast iron skillet recipe be made at home, but you can also make it while camping. Campfire recipes should be simple, and this is definitely an easy campfire recipe. If you want to add meat to this recipe, add bacon. Nothing like a farm-fresh, bacon-eggs-cheese-and-potato skillet!
This baked cast iron skillet recipe has only a few simple ingredients: potatoes (Yukon or red), butter, onion, garlic, parsley, salt, pepper, eggs, and shredded sharp cheese.
Make easy breakfast burritos by using this cheesy potato skillet to fill up your choice of tortillas. I warmed up whole wheat tortillas on the stovetop in a pan. Then I loaded on the baked breakfast potato and egg skillet into the center of them and splashed on some Tabasco and ketchup—it was delicious!
The first step in this cast iron breakfast recipe is to preheat your oven to 400F and dice up your potatoes. Use Yukon or red potatoes; I have used both. Next, I loaded up my skillet with a generous amount of butter, and I mean very generous. I melted the butter over medium-high heat; then I threw the potatoes in and cooked them for a few minutes on one side until they were golden brown. Then I flipped them to brown the other sides. I continued this process until the diced potatoes were evenly browned on all sides.
I threw in the garlic, onion, parsley, salt and pepper, and mixed thoroughly for about 1 minute and removed from heat. The cast iron skillet was so hot that it continued to cook the potatoes, onions, and garlic even off the stove. I cracked four eggs in the corners of the fried potatoes and put the skillet into the oven at 400F.
For harder eggs, bake for 10 minutes; for runnier eggs, bake for about 7 minutes. Shred on the cheese, bake for an additional minute, and you're done! Eat as is or dress up a tortilla for a tasty breakfast burrito.
Tip: I make fried potatoes for breakfast quite often, and I've found that my properly seasoned cast iron skillet works great because the potatoes don't stick as they would in other cookware. With enough oil or butter, the cast iron pan fries the potatoes uniformly whereas other pans make a goopy mess.
Let's get cast iron cooking!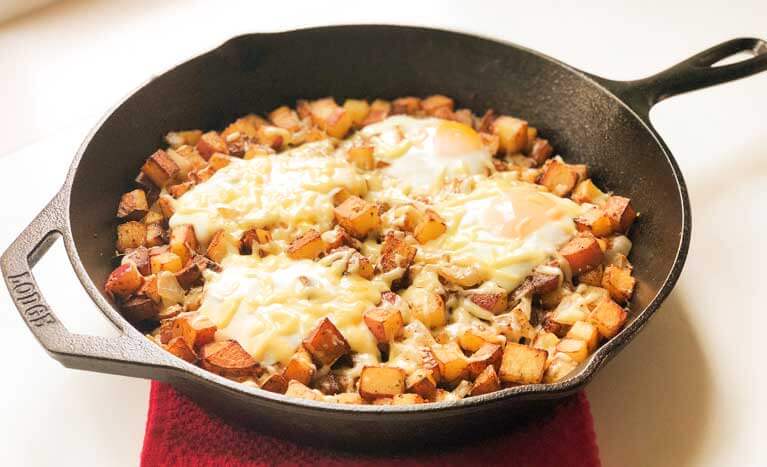 Cheesy Eggs and Potatoes Baked Skillet
Baked Skillet Cheesy Eggs and Potatoes
Ingredients
3

red or Yukon potatoes (about 1.5 pounds)

6

tbsp

butter, divided

1/2

white onion, chopped

4

cloves garlic, minced

2

tsp

parsley

1

tsp

salt

1/2

tsp

pepper

4

eggs

1/2

cup

shredded sharp cheese

Optional: tortillas
Instructions
Preheat oven to 400F. Dice potatoes and melt 4 tablespoons of butter in the skillet over medium-high heat. Once melted, add in the diced potatoes and allow to cook on one side for 2-3 minutes or until the side is golden brown. Once the bottom-side is brown, flip and cook on the other side until the potatoes are uniformly golden brown. Add in the garlic, onion, parsley, salt and pepper and stir for about 1 minute and then remove the pan from heat. Make four wells for the eggs and crack the eggs into the wells. Place in the oven and bake for 7-10 minutes depending on how hard you want your eggs.

Sprinkle on the shredded cheese and bake for an additional minute to melt the cheese.

Enjoy the loaded potato skillet as is or dressed up as a breakfast burrito!