Have you ever chowed down on white chili?
If you haven't, you're missing out on greatness. Although it may be springtime turning to summer (for me), I still love to indulge in homemade chili and feel-good foods. This week I made a spicy white chili from scratch, and it was delicious! This tasty white chili recipe can be formatted to fit your spice preference as well, so don't worry about that!

This easy white chili recipe can be thrown together with basic ingredients you likely have in your pantry or scattered in your fridge: cream cheese, vegetable broth, canned corn, etc. I don't care to leave my house and run to the store, so I always opt for recipes I can craft with on-hand ingredients. I'm used to making the standard chili with black beans, kidney beans, and tomato sauce, so I figured it was time to bust out this creamy white chili recipe! Yes, I said CREAMY. White chili is creamy when compared to its tomato-chili counterpart.
I enjoy this homemade white chili by itself, but it pairs well with corn or tortilla chips. Sadly and surprisingly, I had no chips on hand for this dinner, and I wasn't about to leave home to get some! This vegetarian white chili will definitely feed a family, and you can even make it a vegan white chili by using vegan cream cheese instead of dairy cream cheese! For the meat lovers out there, I'd suggest adding chicken to this recipe.

I love versatile recipes like this. Chili is simple to build up and spice to your preferred texture and taste using seasonings and ingredients. It's extra lovely that this recipe is a one pot chili recipe! No hassling with multiple pots on the stove, plus it's an easy clean up!

You can enjoy this simple white chili year round! Cozy up by the fire or on your couch and crunch it down with tortilla chips crumbled into your bowl of chili—yum!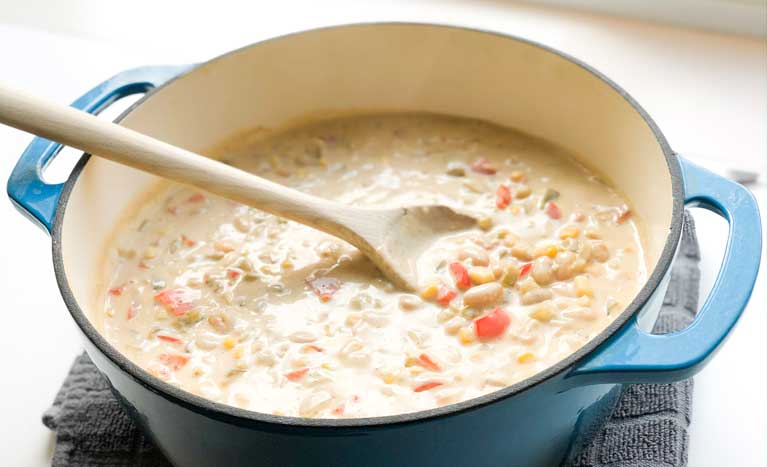 Vegetarian White Chili
I enjoy this homemade white chili by itself, but it pairs well with corn or tortilla chips.
Ingredients
1

white onion, chopped

1

red bell pepper, chopped

4

cloves of garlic, minced

2

tbsp

olive oil

2

cups

vegetable broth

8

oz

cream cheese

1/4

tsp

ground cloves

1

tsp

chili powder

2

tsp

cumin

1

tsp

maple syrup

1

7oz

can of jalapeno slices

1

7oz

can green chilis

1

15oz

can corn

2

15oz

cans Great Northern beans

salt and pepper to taste
Instructions
Heat olive oil over medium heat and add in the chopped white onion, red pepper, and garlic. Cook for about 5 minutes, stirring occasionally.

Add in the vegetable broth, cream cheese, ground cloves, chili powder, cumin, maple syrup, jalapenos, and green chilis. Stir together and cook for about 10 minutes over medium heat.

Add in the beans and corn. Season to taste with salt and pepper.