Homemade apple pie is a timeless classic that captures the essence of comfort and warmth. This recipe will guide you through creating the perfect apple pie, with a flaky crust and a deliciously spiced apple filling.
Whether it's for a special occasion or a cozy evening at home, this apple pie will delight your taste buds and fill your kitchen with an irresistible aroma.
I know that baking pie can seem daunting, but I promise it is easy and tastes better than what you can get from the store—especially if you are using locally grown apples! Fall is the perfect time to head to a pick-your-own apple orchard and stock up on apples for the winter.
A plethora of fall desserts feature apples, and I can see why. Apples paired with spices make a delicious treat and leave your homestead kitchen smelling delicious—especially apple pie. This apple pie recipe is perfect for Thanksgiving and Christmas!
What are the best apples to use for apple pie?
The best apples for apple pie are those that are both sweet and tart, with a firm texture. Varieties like Granny Smith, Honeycrisp, and Braeburn work well. In reality, you can use whatever apples you have available to you. Just keep in mind texture and taste will vary. I'm not picky when it comes to apples, and I am always pleased with how my apple desserts turn out with the variety of apples I have on hand.
Do I have to peel the apples for apple pie?
While peeling the apples is optional, it's recommended for a smoother texture in the apple filling. If you prefer some texture and added fiber, you can leave the peels on. Trust me when I tell you that you need and apple peeler and corer for this feat. Pealing, coring, and slicing apples is time consuming and this little tool will save you loads of time and will make the perfect sliced apples.
Can I make the pie crust ahead of time?
Yes, you can prepare the pie crust in advance. Refrigerate it for up to 2-3 days before using it for your apple pie.
What's the secret to a flaky pie crust?
The key to a flaky pie crust is using cold butter and cold water. Keeping the ingredients cold helps create layers in the crust. The cold butter, when baked, will create flaky pockets similar to when you bake homemade biscuits.
How can I prevent the pie crust from becoming soggy?
To prevent a soggy crust, you can blind bake the bottom crust for about 10 minutes before adding the apple filling. Another tip is to sprinkle a thin layer of breadcrumbs or ground nuts on the bottom crust before adding the apples; this helps absorb excess moisture.
What spices should I use in the apple filling?
A classic combination of ground cinnamon and ground nutmeg is perfect for apple pie. It enhances the flavor of the apples without overpowering them.
Can I use frozen apple slices for the filling?
While fresh apples are preferred, you can use frozen apple slices in a pinch. Just thaw and drain them before using, and adjust the sugar and thickener as needed.
Do I need to use an egg wash on the pie crust?
Using an egg wash on the top crust gives it a beautiful golden finish. It's optional but highly recommended for visual appeal.
How do I store leftover apple pie?
Store leftover apple pie at room temperature for a day or two. After that, refrigerate it in an airtight container for up to 3-4 days.
Can I freeze apple pie for later?
Yes, you can freeze apple pie. Wrap it tightly in plastic wrap and aluminum foil, and store it in the freezer for up to 3 months. Thaw and reheat it in the oven when ready to enjoy.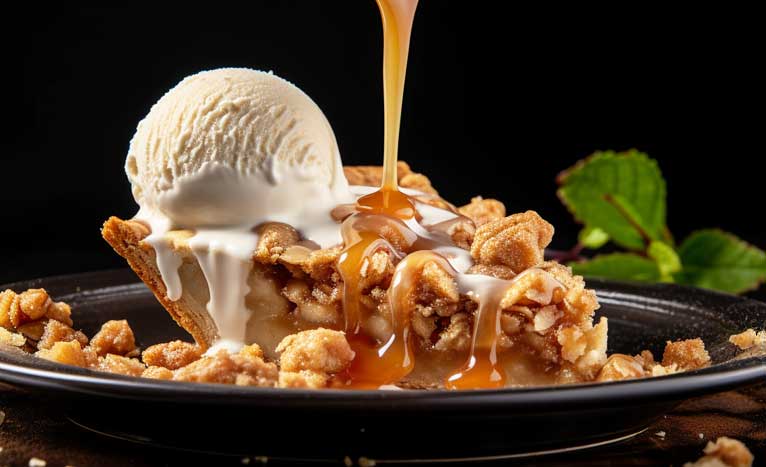 Apple Pie
Homemade apple pie is a timeless classic that captures the essence of comfort and warmth.
Equipment
9-inch pie dish

Rolling Pin

Mixing bowls

Pastry cutter or fork
Ingredients
For Pie Crust
2 1/2

cups

all-purpose flour

1

tsp

salt

1

cup

(2 sticks) unsalted butter, cold and cubed

6-8

tbsp

ice water
Apple Filling
6-7

cups

peeled, cored, and sliced apples (such as Granny smith)

3/4

cup

granulated sugar

1

tbsp

all-purpose flour

1

tsp

ground nutmeg

1

tbsp

lemon juice
For Assembly
1

tbsp

unsalted butter (for greasing)

1

egg

1

tbsp

milk or cream (for egg wash)

granulated sugar (for sprinkling)
Instructions
Prepare the Pie Crust:

In a food processor, pulse the flour and salt.

Add the cold, cubed butter and pulse until the mixture resembles coarse crumbs.

Slowly add ice water, one tablespoon at a time, until the dough comes together.

Divide the dough into two discs, wrap them in plastic, and refrigerate for at least 1 hour.

Make the Apple Filling:

In a large mixing bowl, combine the sliced apples, granulated sugar, all-purpose flour, ground cinnamon, ground nutmeg, and lemon juice. Toss until the apples are evenly coated. Set aside.

3. Preheat the Oven:

Preheat your oven to 425°F (220°C).

Roll Out the Crust:

On a floured surface, roll out one of the chilled dough discs to fit the bottom of your pie dish.

Line the Pie Dish:

Gently place the rolled-out dough into the greased pie dish, making sure it covers the bottom and sides.

Add the Apple Filling:

Pour the prepared apple filling into the pie crust, spreading it out evenly.

Top the Pie:

Roll out the second dough disc to create the top crust. You can create a classic lattice pattern or simply place the whole dough round over the filling.

Seal and Ventilate:

Trim any excess dough and crimp the edges to seal the pie. Cut slits in the top crust to allow steam to escape.

Create an Egg Wash:

In a small bowl, whisk together the egg and milk or cream to create an egg wash.

Brush the Pie:

Brush the top crust with the egg wash for a beautifully golden finish.

Bake:

Place the pie in the preheated oven and bake for 45-55 minutes or until the crust is golden brown, and the apple filling is bubbling.

Cool and Serve:

Allow the apple pie to cool on a wire rack before slicing. Serve it warm or at room temperature, optionally with a scoop of vanilla ice cream.

Enjoy!

This homemade apple pie is a labor of love that's worth every moment. Its flaky crust and flavorful apple filling will make it a family favorite for years to come. Serve it on special occasions or as a comforting dessert on any day.