Sourdough cinnamon rolls are a delicious treat and a kid-friendly breakfast item. Cinnamon rolls are a delicious way to start your day. The combination of sweet cinnamon filling and fluffy, buttery pastry is sure to wake up your taste buds and leave you feeling satisfied. The aroma of freshly baked cinnamon rolls is also a great way to kickstart your day and get you excited for the day ahead. I love whenever I bake anything, and my house smells like whatever delicious treat I had in the oven!
What is an easy and convenient breakfast recipe?
Cinnamon rolls are extremely convenient because they are low maintenance Most recipes can be made ahead of time and stored in the fridge or freezer, making them the perfect grab-and-go breakfast for busy mornings. Additionally, cinnamon rolls can be easily reheated in the microwave or oven, making them a quick and easy breakfast option.
What are different ways to fill cinnamon rolls?
There are countless variations of cinnamon rolls, from classic cinnamon and sugar to more adventurous flavors like pumpkin spice or apple pie. You can also add your own personal touch by experimenting with different glazes, toppings, or even adding nuts or fruit to the filling. I prefer to have classic cinnamon and sugar rolls during the winter, but when fruit is in abundance in summer, I will add fruit into the rolls!
The special ingredient in these cinnamon rolls is sourdough starter. I have other sourdough recipes such as sourdough english muffins, sourdough bread, and sourdough brownies. In my opinion, baked goods made with a sourdough starter instead of yeast or other leavenings taste way better. The process for baking with sourdough may take longer than baking with yeast, but it is worth the wait.
What are the benefits of sourdough?
Sourdough is fermented, which means it contains lactic acid bacteria and wild yeast that help to break down the complex carbohydrates, gluten, and other proteins in the bread. This makes sourdough bread easier to digest for many people, particularly those with gluten sensitivity or irritable bowel syndrome. Much like raw milk being easier to digest, sourdough starter, a natural food, is easier to digest as well.

The fermentation process of sourdough can also enhance the nutritional profile of the bread. The bacteria and yeast produce enzymes that increase the availability of certain nutrients, such as B vitamins, iron, and zinc. Sourdough also has a lower glycemic index than many other types of bread, meaning it causes a slower rise in blood sugar levels. Imagine eating healthy cinnamon rolls!
What ingredients do you need for sourdough cinnamon rolls?
Sourdough starter, milk, granulated sugar, butter, 1 egg, flour, salt, baking powder, and baking soda.
What ingredients do you need for cinnamon roll filling?
Like I've mentioned, you can mix up the filling of the cinnamon rolls. Traditionally, you just need butter, cinnamon, and brown sugar for the filling. If you want to add in some strawberries or blueberries with the cinnamon and sugar, go for it! This is a great way to use up excess fruit taking up room in your fridge or on your counter.

How do you make a cinnamon roll glaze?
In a bowl, you will combine powdered sugar, salt, melted butter, vanilla extract, and milk or heavy whipping cream. You can add more or less milk or heavy whipping cream to reach your desired glaze consistency. I prefer a thicker glaze because it will melt over the hot cinnamon rolls.

You can add variety to your glaze by using different extracts. Mix it up by using orange extract and adding in shredded orange peels or do the same thing with lemon. The best part about cinnamon rolls is that they are versatile, including their glaze!
Cinnamon roll baking tips
this recipe has two periods of dough rising. Allow your dough to rise in a warm area such as on top of the fridge, near a fireplace or heat vent, or a warm room.
if your dough hasn't doubled during 1-2 hours in the first rise, allow it to keep rising until it has doubled.
rolling the dough into a rectangle can take some time, but it will stretch the more you work it. As you roll the rectangle together, it will stretch out.
cutting the rolled rectangle log can be difficult. Use a dough cutter https://amzn.to/3ZcXWql or I have had luck with a floured serrated knife and sawing down through the dough to not squish.
Let's get baking!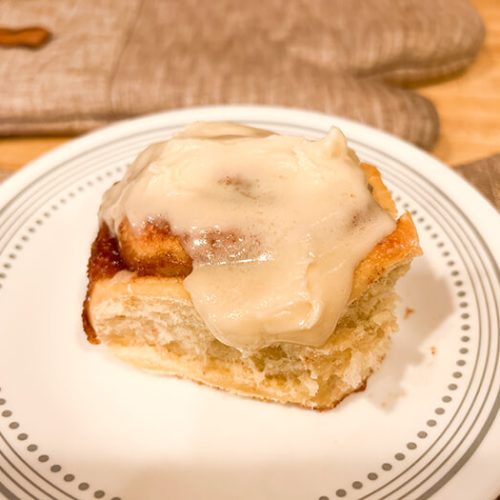 Super Easy Sourdough Cinnamon Rolls
The combination of sweet cinnamon filling and fluffy, buttery pastry is sure to wake up your taste buds and leave you feeling satisfied.
Ingredients
1

cup

active sourdough starter

1/2

cup

warm milk

1/4

cup

granulated sugar

1/3

cup

butter, melted

1

egg

3 1/2

cups

all-purpose flour

1/2

tsp

salt

1

tsp

baking powder

1/2

tsp

baking soda
Cinnamon Filling
1/2

cup

brown sugar

2

tsp

cinnamon

1/4

cup

unsalted butter, softened
Glaze
2

cups

powdered sugar (confectioners' sugar)

1/4

tsp

salt

2

tsp

butter, melted

1

tsp

vanilla extract

2-3

tbls

milk or heavy cream
Instructions
In a large mixing bowl, combine the sourdough starter, warm milk, sugar, melted butter, and egg. Mix well.

In a separate bowl, combine the flour, salt, baking powder, and baking soda. Add the dry ingredients to the sourdough mixture and stir until a dough forms.

Knead the dough for 5-10 minutes until it becomes smooth and elastic. Place the dough in a greased bowl, cover with plastic wrap, and let it rise for 1-2 hours or until it has doubled in size.

Roll out the dough into a 14"x20" rectangle on a floured surface.

In a small bowl, mix together the brown sugar and cinnamon for the filling. Spread the softened butter evenly over the dough, then sprinkle the cinnamon sugar mixture on top.

Roll the dough tightly into a log and cut it into 12 equal pieces. Place the pieces in a greased baking dish, leaving some space in between each roll.

Let the rolls rise for another 30-60 minutes or until they have doubled in size.

You can either place the rolls in the fridge to bake the next day, or you can bake right away.

Preheat your oven to 350°F (180°C). Bake in the preheated oven for 25-30 minutes or until golden brown.

While the rolls are baking, make the glaze by combining the powdered sugar, salt, melted butter, vanilla extract, and milk or heavy whipping cream. Adjust the glaze according to your preference. If you like a thicker glaze, add more powdered sugar. If you like a thinner runnier glaze, add more milk or heavy whipping cream.

Remove the rolls from the oven, pour the glaze on top, and enjoy!