With the world crashing around us, and a global pandemic raging through society, and the dystopian novel 1984 seemingly unfolding before our eyes, it's time to sit back and enjoy a savory slice of cast iron pizza!
I recently purchased a 12 inch cast iron pan and I'm learning how to cook with it. My grandma swore by cast iron and cooked only with cast iron pans. Although she used other modern-day benefits, like a car and the grocery store, she remained faithful to the cast iron cookware she grew up with. Unlike Teflon, cast iron is durable and cookware can be passed down through generations because it doesn't lose its flare like modern day cookware.
Do they make these newer pans to fail? It sure seems like all the non-stick pans I've ever seen faded away and ended up at the garbage dump.
I was young when Grandma passed away, so I didn't get the chance to ask for her pans, but when I experiment with new recipes, I think to myself:
Would she enjoy this cast iron recipe? What seasonings would she use? How old were her pans?
I still remember going to her house for dinner and seeing her oven top loaded with cast iron cookware, the sound of grease popping, savory aromas lingering in her kitchen. I love learning a skill she was proficient in.
This past week I decided to make a homemade vegetarian pizza. Not just any tasty homemade pizza, but an easy cast iron pizza! I opted for bakery-bought pizza dough instead of making it from scratch because I wanted to see how the process played out without investing hours into making dough. This yummy cast iron pizza turned out better than I expected, and I love how easy it is with pre-made dough.
I definitely know how to make homemade pizza dough because I've done it many times, but it's good to add a bit of ease to the day, you know?
After you stretch the dough to about 12 inches and make the outside a bit thicker for a traditional crust, top it with pizza sauce, cheese, and your favorite toppings! I used mozzarella, fresh basil, and sun-dried tomatoes—a winning combo.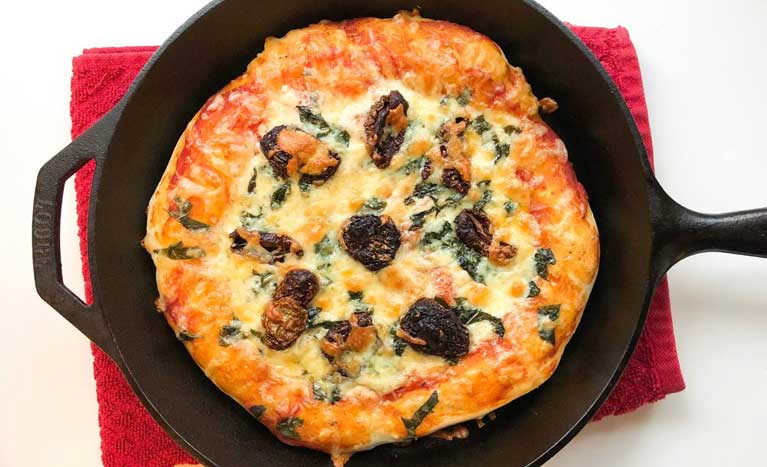 Easy Cast Iron Pizza
Not just any tasty homemade pizza, but an easy cast iron pizza!
Ingredients
pre-made pizza dough

1

cup

pizza sauce

1-2

cups

Mozzarella cheese

Fresh basil

Sun dried tomatoes

Your favorite toppings
Instructions
Preheat the oven to 425F and lightly grease your cast iron skillet with olive oil.

Spread the pizza dough to the sides of the cast iron. Make the outskirts of the dough thicker to resemble a traditional pizza crust.

Spread the pizza sauce on top of the dough starting from the center and swirling your way out.

Sprinkle cheese on top of the sauce and sprinkle on chopped basil and sundried tomatoes. Sprinkle remainder of cheese on top.

Bake for 20-25 minutes until the crust is golden brown on the outskirts