Pot pies are a wonderful comfort food.
I remember growing up and enjoying my mom's pot pies throughout the winter. Hearty pot pies are delicious and filling and one of my favorite dishes! Pot pies are easy to make, contrary to what you may think! With the right filling ingredients, the process can be rather quick. For this easy vegetarian pot pie, I use frozen vegetables to avoid washing and cutting up fresh vegetables.
Not only is this a hearty pot pie dish, but it's also cooked in a cast iron pan! I love how easy it is. With a cast iron skillet, you can simply combine the ingredients in the skillet on the stovetop; then place the skillet directly in the oven to bake. No need to transfer everything into a special, oven-safe dish! Making this tasty pot pie recipe requires minimal effort—and clean-up is a breeze! My favorite component of homemade pot pie is the biscuits that line the top of the vegetable filling. The homemade pot pie topping for this dish is made of crumbly biscuits that are simple to create. This wasn't my first time making easy homemade biscuits to line a gravy-like dish, and it won't be my last!
Using frozen vegetables to make a dish like this takes away some of the effort required in cooking it. When I don't need the extra stress of prepping and clean-up, I opt for frozen packaged foods. Now that summer is here, though, I will put more effort into using fresh vegetables from local farms or my garden.
This pot pie skillet is one of my favorite recipes for my cast iron skillet. It's tasty and easy! It may become a weekly dinner. I love easy and healthy cast iron recipes and have been experimenting with my skillet lately, and this homemade vegetable pot pie skillet is definitely a winner.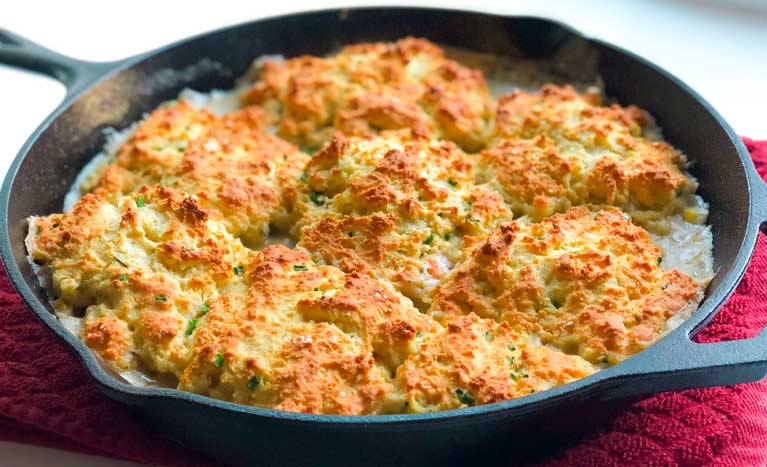 Easy Cast Iron Vegetable Pot Pie
Hearty pot pies are delicious and filling and one of my favorite dishes!
Ingredients
Filling:
4

tbsp

butter

1

white onion

3

tbsp

all-purpose flour

1

cup

whole milk

1

tsp

salt

1/2

tsp

sage

1/2

tsp

thyme

1/2

tsp

cracked pepper

1

cup

vegetable broth

1

16oz

package frozen mixed vegetables
Biscuit topping:
2

cups

all-purpose flour

3

tsp

baking powder

1/4

tsp

salt

6

tbsp

cold butter

3

tbsp

chopped chives (optional)

1

cup

whole milk
Instructions
Prepare the biscuit topping by combing the flour, baking powder, salt, and cold butter. Use your hands or a pastry cutter to work in the butter to the flour mixture. It should be a bit gritty and have a sand-like consistency. Once reached, add in chives and stir in the milk. The dough will be a bit sticky and wet.

Melt the butter in an oven-safe skillet over medium heat. Add the diced onion and sauté until transparent and soft. Add the 3 tablespoons of flour, mix together, and cook for 1-2 minutes. Add in the 1 cup of milk and whisk together until no lumps remain. Whisk in the salt, sage, thyme, and pepper until combined. Allow the mixture to come to a simmer and whisk until it thickens.

Pour in the vegetable broth and bring to a simmer, whisking occasionally. Once thick and creamy, add in frozen vegetables. Simmer for 2-3 minutes, so it can cook warm thoroughly.

With your hands, drop large chunks of the dough over the top of the vegetable filling. I had about 8 evenly sized biscuits that topped my filling. The dough will be sticky to your hands, but that's okay.

Once your filling is covered with the biscuits, place in the oven for 12-15 minutes or until the top of your biscuits are browned, so keep an eye on them.