Have you ever indulged in a warm slice of zucchini bread with butter melted on top?
YUM! I actually prefer zucchini bread over banana bread, and I have the best zucchini bread recipe to share with you—straight from the garden. I don't have zucchini growing in my backyard garden. I have strawberries and tomatoes (Learn how to grow an organic strawberry garden). My friend brought me over a HUGE zucchini she plucked from her backyard garden, so I had to get baking!
The zucchini she brought to me was the size of a miniature puppy, and I was pumped! My fridge is stocked full of fresh ingredients from local farms and gardens, so the fresh zucchini was a pleasant surprise.
Growing up, my mom made zucchini bread several times a year, and I LOVED it. Zucchini bread is extremely moist and tastes like a sweet bread. I also believe that zucchini bread is healthy because its main ingredient is zucchini, haha. This easy zucchini bread is a delicious summer treat and it's easy to make! A bonus with this recipe is it's made in one bowl, so clean-up is simple!
Do you need to peel the zucchini?
No! Not in this recipe because most of the nutrients are stored in the peel. Wash and lightly scrub the zucchini to remove any dirt and debris before shredding, though.
What are the nutrition benefits of zucchini?
Zucchini is full of antioxidants and vitamin C. With covid-19 and other viruses lurking around, vitamin C is a wonderful vitamin to consume because it helps strengthen your immune system! Zucchini is also rich in potassium, which keeps your heart healthy.
Do I need to squeeze the water out of the zucchini?
Nope! Zucchinis are full of water, but this recipe accounts for the moisture in 2 cups of zucchini. Zucchini bread is moist bread, and the water from the shredded zucchini creates that.
How many zucchini do I need for zucchini bread?
Typically, 1 medium-sized zucchini will equate to 1 cup of shredded zucchini. I had a large zucchini (roughly 5lbs.) and it yielded about 3 cups. It's better to be on the safe side and get a larger zucchini—you can always bake extra loafs to give away as summertime gifts or freeze for later!
This recipe comes together easily all in one bowl. This is the tastiest one bowl zucchini bread you will ever make! Add in the dry ingredients to a large mixing bowl and stir together. Once the dry ingredients are combined and evenly dispersed, add in the wet ingredients (eggs, vegetable oil, and vanilla.)
Mix in the shredded zucchini, and pour the moist zucchini bread batter into a greased loaf pan. Bake at 325F for 50-60 minutes until an inserted toothpick comes out clean and enjoy!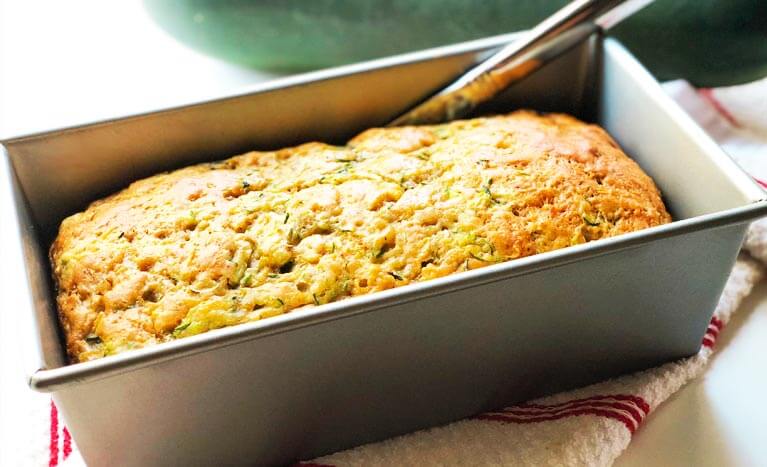 Zucchini Bread Recipe
I actually prefer zucchini bread over banana bread, and I have the best zucchini bread recipe to share with you—straight from the garden.
Ingredients
1 1/2

cups

all-purpose flour

3/4

cup

sugar

1/2

tsp

baking soda

1/2

tsp

baking powder

1/2

tsp

salt

2

tsp

cinnamon

1/4

tsp

ground clove (optional)

Dash of all-spice (optional)

2

eggs

1/2

cup

vegetable oil

1

tsp

vanilla

2

cups

zucchini, shredded
Instructions
Preheat oven to 325F and combine the flour, sugar, baking soda, baking powder, salt, cinnamon and optional spices. Mix in the eggs, oil, vanilla and zucchini.

Grease a loaf pan and pour in the zucchini batter. Bake for 50-60 minutes. Insert a toothpick at 50 minutes, and if it comes out clean it's done. If not, continue to bake until about 60 minutes or until a toothpick comes out clean.