Welcome to my delightful article on Grandma's Rhubarb Crisp recipe! If you're a fan of tangy rhubarb combined with a sweet and crunchy topping, you're in for a treat. In this blog, we'll take you on a journey through the history and preparation of this classic dessert. Get ready to tantalize your taste buds and impress your family and friends with this mouthwatering recipe. Personally, it is one of my favorite spring and summer desserts because it reminds me of growing up!
The Story Behind Grandma's Rhubarb Crisp
Grandma's Rhubarb Crisp holds a special place in my heart, as it takes me back to simpler times. Many of us have fond memories of visiting our grandparents' homes, where we were greeted with the aroma of freshly baked rhubarb crisp wafting through the air—I do! This timeless recipe has been passed down through generations, and it continues to bring joy and comfort to our tables. It is a simple dessert recipe, and that is why I love it!
Another fond memory I have that involved rhubarb is going to the local rhubarb festival growing up and entering into the "rhubarb leaf competition." Whoever had the largest rhubarb leaf won a ginormous gift basket, and I remember wanting to win so badly! That morning, I picked the largest leaf in our backyard rhubarb garden and headed down to the festival.
To my surprise, I had the biggest leaf! I got my photo taken with the leaf just about as big as me (I was only 8) and grabbed my basket to leave. In the distance on the horizon, I saw a lady coming with a rhubarb leaf twice the size of mine. The contest was over and I was deemed the winner, but my dad and I quickly skedaddled out of there with our prize basket. Who knew rhubarb could bring so much joy?
The Versatile Rhubarb
Rhubarb, with its vibrant red stalks and tart flavor, is the star ingredient of this dessert. It has a unique tanginess that pairs perfectly with the sweetness of the crisp topping. Rhubarb is not only delicious but also packed with nutrients. It's a great source of vitamins C and K, fiber, and antioxidants, making this dessert a guilt-free indulgence. The best part is that it can easily be grown in backyard gardens and it is a perennial, so it comes back each year!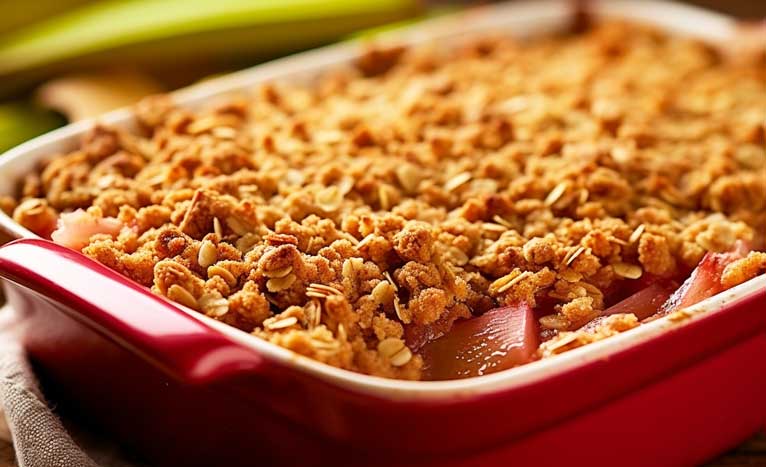 Grandma's Rhubarb Crisp Recipe
My delightful recipe on Grandma's Rhubarb Crisp recipe! If you're a fan of tangy rhubarb combined with a sweet and crunchy topping, you're in for a treat.
Ingredients
8

cups

Rhubarb, cut 3/4 inch size pieces

1/2

cup

granulated white sugar

1/4

cup

all purpose flour

1/2

tsp

ground cinnamon
Topping
1

cup

All-Purpose Flour

3/4

cup

light brown sugar

1/2

cup

rolled oats

1/2

cup

unsalted butter, melted
Instructions
The first step in making Grandma's Rhubarb Crisp recipe is to preheat the oven and spray an11 x 7 inch baking dish with non-stick cooking spray. I rub a stick of butter on my dish to grease it.

I have also made this recipe in a larger, 9 x 13 inch baking dish. However, I prefer the depth of the crisp when made in the smaller 11 x 7 inch dish.

Once you have prepared the dish, set it aside and begin making the dessert. Place the rhubarb pieces in a large bowl, then sprinkle granulated sugar, all-purpose flour, and cinnamon on top.

Mix the rhubarb in the mixture until it is well coated, then transfer the rhubarb pieces to the bottom of the prepared baking dish. Set it aside while you prepare the crisp topping.
Instructions For Crisp Topping
In a medium bowl, combine all-purpose flour, granulated sugar, and rolled oats. Pour the melted butter over the mixture and use a silicone spatula to mix everything well.

Next, sprinkle the crisp topping over the rhubarb mixture in the baking dish. Use the back of the silicone spatula to spread the crisp evenly, covering the entire top surface.
Required Baking Time
Now it's time to start baking! Place the baking dish in the preheated oven and bake for 35 minutes. The crisp is ready when the top turns a light golden brown color.

You will notice that some of the vibrant red juices from the rhubarb have risen to the top of the crisp. This is perfectly normal and adds a lot of flavor when the sauce becomes somewhat caramelized on the surface.

Take the baking dish out of the oven and allow it to rest for 5-10 minutes before serving. This will give the juices some time to thicken slightly, making it easier to serve.

Using a large serving spoon, place a portion of the crisp on a plate. Then, add a scoop of vanilla ice cream on top! If you have a cow or access to heavy whipping cream, you can make your own homemade ice cream by shaking it vigorously in a mason jar and placing it in the freezer. I did this all of the time when I had my cow, Moo.

While I personally enjoy this recipe as it is, you can also substitute 1/4 of the diced rhubarb with strawberries for a different twist. To add more texture to every bite, consider adding toasted slivered almonds or walnuts to the topping. Everyone loves an easy strawberry rhubarb dessert! I don't have any strawberries in my garden right now, just an abundance of rhubarb so I used that.