Welcome back to the Gubba blog! ? Happy Thanksgiving week!
I hope you had a wonderful, food-filled week—even if you don't celebrate it!
Thanksgiving is one of my favorite holidays; can you guess why?
THE FOOD OF COURSE!
My mom makes the most delicious turkey dinner. I don't eat turkey, but I eat everything else around the centerpiece of that great dinner—creamy mash potatoes, baked stuffing accented with apple bites, savory gravy, and scrumptious dinner rolls. It's all just a recipe for a happy belly. I didn't even mention my mom's pistachio salad or green bean casserole… YUM!
What comes before Thanksgiving dinner though? At my house: appetizers.
We do a cheese board and pour on some of my mom's Chex Mix! You may be thinking I'm talking about the standard Chex Mix that comes in a bag at the store… NO! Well, kind of. My mom uses Chex cereal to bake a perfect masterpiece of homemade Chex Mix!
This recipe didn't originate with her though; it was Grandma's recipe! She made it every year and shared it with my mom! It's been a hit in my family for generations! I can't believe I'm about to do this, but I'm going to share this recipe with you! It's the BEST homemade Chex Mix you'll EVER have! Of course, my mom's always tastes better than mine because she bakes it with Love, and family members are gifted in the art of baking with love for you. I can't quite do it the way she does… yet! Haha!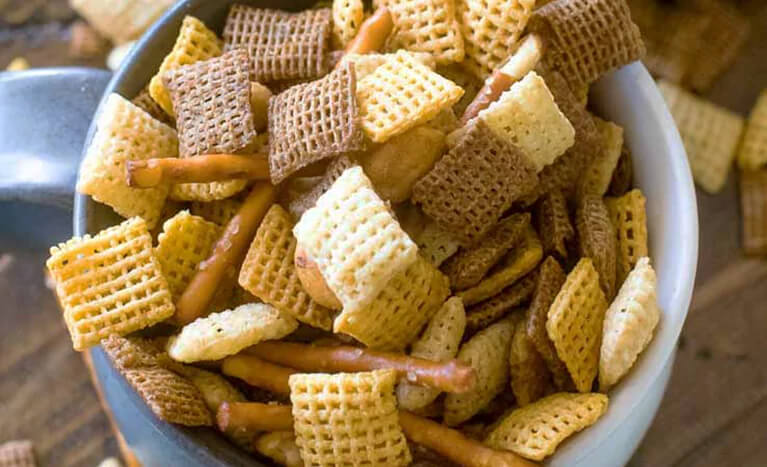 Chex Mix
This recipe didn't originate with her though; it was Grandma's recipe!
Ingredients
1/2

cup

(1 stick) margarine

1 1/4

tsps

All Seasoned Salt

4 1/2

tsps

Worcestershire sauce

5 1/3

cups

Crispix cereal

1

cup

salted mixed nuts

1

cup

pretzel sticks
Instructions
Melt butter in 15x10x2 roasting pan in the oven

Remove pan once butter is melted and stir in seasoned salt and Worcestershire sauce

Gradually add Crispix cereal and nuts, mixing until all pieces are coated with the butter sauce

Bake mixture for 1 hour, stirring every 15 minutes

Once done baking, spread mixture on paper towels (or other absorbent paper) to cool