Are you ready for HEALTHY mac and cheese? It's a bewildering question:
"How the heck can mac and cheese be healthy, Gubba?"
Well, let me walk you through how I composed such a dish. First, let me be clear: this recipe is vegan and the "cheese" sauce is crafted from cooked vegetables and seasoned to perfection with spices and nutritional yeast. I'm not vegan, but I don't avoid vegan recipes. I find the meals intriguing, easy to make, and oftentimes, quite healthy!
Recently, a family member went dairy-free due to allergies. This prompted me to seek yummy alternatives to their favorite dishes—one being mac and cheese! Dairy cheese is a hard flavor to mimic. You can find "dairy-free" cheese at the store, or you can use nutritional yeast to mimic a cheesy flavor. I've experimented with nutritional yeast, and have used it to make a few "cheesy" sauces. This vegan cheese sauce is by far my favorite because it's so dang healthy!
This classic vegan mac and cheese recipe may seem daunting or unusual, but it's a tasty alternative to dairy mac and cheese! What I love about this recipe is it's fast and easy to prepare. While the vegetables cook, you can prepare the cheese sauce base. Use a blender to mix the vegan cheese ingredients, and you're good to go!
You can opt for any type of pasta – wheat, traditional, gluten-free, or garbanzo to pair with this creamy vegan cheese sauce! I ventured out with garbanzo pasta, and it was delicious! I didn't noticed a flavor or texture difference but my palate is most likely different than yours. I've also used traditional pasta with this recipe, and the flavor is consistent. Your pasta choice revolves around your dietary needs, so choose what works for you! It is neat to see the grocery shelves lined with pasta options. Of course, you can make your own pasta as well!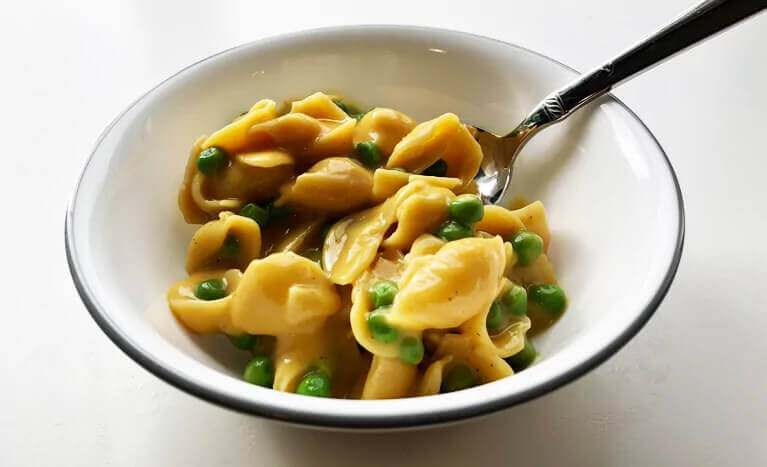 Healthy Vegan Mac and Cheese
Are you ready for HEALTHY mac and cheese? It's a bewildering question
Ingredients
1

box

pasta of your choice

3

large russet potatoes

2

medium carrots

1

cup

frozen green peas

1/4

cup

nutritional yeast

4

cloves minced garlic

1

tsp

apple cider vinegar

2

tbsp

lemon juice

1

tbsp

Dijon mustard

1/2

tsp

paprika

1

tsp

salt

1/2

tsp

onion powder

1/2

tsp

tumeric powder

1/2

tsp

pepper
Instructions
Wash potatoes and carrots, peel off skins, and chop into bite-sized chunks

Place the potato and carrot chunks in a pot on the stove. Pour water over the vegetables until there is about 1 inch of water covering them. Sprinkle a generous amount of salt into the water and heat to a boil

Boil for 15 minutes or until the vegetable chunks are easily pierced with a fork

Drain into a colander making sure to fill a liquid measuring cup with 2 cups vegetable water reserve (this type of water helps create smooth sauces!)

In a mixing bowl, mix the garlic, apple cider vinegar, lemon juice, Dijon mustard, paprika, onion powder, turmeric powder, salt, and pepper

Place the boiled vegetables in a blender with the nutritional yeast and 1/2 cup of vegetable water reserve. Blend

Add in the garlic mixture and blend for about 2 minutes until smooth and no chunks remain. If a more liquid consistency is desired, add more of the vegetable water until satisfied. Taste and add more seasonings to reach your desired flavor. More salt for a more savory flavor, etc.

Place the frozen peas in a pan and cover with water, boil for 4-5 minutes until cooked

Once the pasta and peas are done, drain and place into a serving bowl. Pour in cheese sauce and mix together until evenly coated