Fall is here! That means everything pumpkin is back in season, and I am here for it! I love cooking and baking with pumpkin. One of my all-time favorite recipes is making a pumpkin loaf. My mom would start making them in October growing up, so no wonder I associate pumpkin loaves with fall.
A Pumpkin Loaf is a delightful autumn treat that captures the warm and cozy flavors of pumpkin and spices. Whether you enjoy it with a cup of tea in the afternoon or as a sweet addition to breakfast, this moist and flavorful loaf is a must-try. Here's how to make a delicious Pumpkin Loaf at home.
Can I use fresh pumpkin instead of canned pumpkin puree?
Yes, you can use fresh pumpkin puree. Simply roast and puree a small pumpkin, and use it as a substitute for canned pumpkin puree. All you need is pumpkin pie pumpkins—they are smaller than regular lantern pumpkins. I promise if you take the time to use pumpkin pie pumpkins to make the puree, you will notice a night and day difference from using pumpkin puree out of the can—it is magical. Pumpkin puree from the can is amazing too!
What can I use if I don't have ground spices?
How do you make pumpkin pie spice?
You can use pumpkin pie spice, which is a blend of cinnamon, nutmeg, cloves, and ginger, as a convenient substitute for individual ground spices.
Don't stress if you don't have "pumpkin pie spice" in your pie cabinet. Here is how you make it:
Ingredients:
3 tablespoons ground cinnamon
2 teaspoons ground ginger
2 teaspoons ground nutmeg
1½ teaspoons ground allspice
1½ teaspoons ground cloves
Combine these spices and keep in a container. Use whenever a recipe calls for "pumpkin pie spice."
Can I reduce the sugar in the recipe for a less sweet loaf?
Yes, you can reduce the sugar slightly if you prefer a less sweet loaf. Adjust according to your taste.
Do I need to sift the dry ingredients before mixing them in?
Sifting is not necessary, but it can help ensure that the dry ingredients are well combined and free of lumps. I typically take a whisk and whisk together the dry ingredients. All it took was for me to end up with an uneven raised loaf, and I decided that sifting may be worth my time, although not necessary.
Can I use margarine instead of butter?
You can use margarine as a substitute for butter, but keep in mind that it may affect the flavor and texture of the loaf. I personally would never suggest it as butter is far superior in its nutrient profile, but I understand people cook differently.
What's the purpose of adding milk to the batter?
Adding milk helps create a moist and tender loaf. It also helps balance the consistency of the batter.
Should I let the loaf cool in the pan after baking?
It's recommended to let the Pumpkin Loaf cool in the pan for about 10 minutes after baking before transferring it to a wire rack to cool completely. This helps it set and makes slicing easier.
Can I freeze Pumpkin Loaf for later?
Yes, you can freeze the loaf. Wrap it tightly in plastic wrap and aluminum foil, or place it in an airtight container before freezing for up to 2-3 months.
Can I add cream cheese frosting to the Pumpkin Loaf?
Absolutely! Cream cheese frosting makes a delicious addition. Let the loaf cool completely before spreading frosting on top. If you spread it while the loaf is still hot, the cream cheese will melt.
What's the best way to serve Pumpkin Loaf?
Pumpkin Loaf is delightful on its own, but you can also enjoy it with a cup of coffee, tea, or a glass of milk. It's a versatile treat suitable for breakfast or dessert.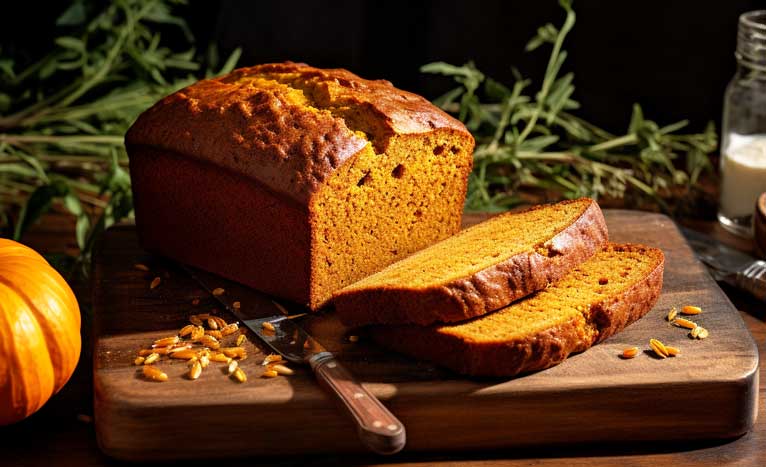 Homemade pumpkin Loaf
One of my all-time favorite recipes is making a pumpkin loaf. My mom would start making them in October growing up, so no wonder I associate pumpkin loaves with fall.
Ingredients
1 3/4

cups

all-purpose flour

1

tsp

baking soda

1/2

tsp

baking powder

1/2

tsp

salt

1

tsp

ground cinnamon

1/2

tsp

ground nutmeg

1/4

tsp

ground cloves

1/4

tsp

ground ginger

1/2

cup

unsalted butter, softened

1 1/4

cups

granulated sugar

2

large eggs

1

cup

canned pumpkin puree

1/3

cup

water

1

tsp

vanilla extract
Optional Add-Ins:
1/2

cup

chopped walnuts or pecans

1/2

cup

raisins or chocolate chips
Instructions
Preheat the Oven: Preheat your oven to 350°F (175°C). Grease a 9x5-inch (23x13 cm) loaf pan or line it with parchment paper for easy removal.

Combine Dry Ingredients: In a mixing bowl, whisk together the all-purpose flour, baking soda, baking powder, salt, ground cinnamon, ground nutmeg, ground cloves, and ground ginger. Set aside.

Cream Butter and Sugar: In a separate bowl, using an electric mixer or by hand, cream together the softened butter and granulated sugar until light and fluffy.

Add Eggs and Pumpkin: Beat in the eggs one at a time, mixing well after each addition. Then, add the canned pumpkin puree (or puree from a pie pumpkin) and mix until well combined.

Alternate Adding Dry Ingredients and Water: Gradually add the dry ingredient mixture to the wet ingredients, mixing until just combined. Don't overmix. Add the milk and vanilla extract, and mix until the batter is smooth.

Add Optional Ingredients: If desired, fold in chopped nuts, raisins, or chocolate chips for extra flavor and texture.

Pour into Loaf Pan: Pour the pumpkin loaf batter into the prepared loaf pan, spreading it evenly.

Bake: Place the loaf pan in the preheated oven and bake for 60-70 minutes, or until a toothpick inserted into the center comes out clean. The baking time may vary, so keep an eye on it.

Cool and Serve: Allow the Pumpkin Loaf to cool in the pan for about 10 minutes before transferring it to a wire rack to cool completely.

Slice and Enjoy: Once cooled, slice the loaf and serve. Enjoy your homemade Pumpkin Loaf with your favorite beverage or as a delicious snack.

Optional Toppings: A dusting of powdered sugar or a drizzle of icing glaze can add a touch of sweetness and elegance to your Pumpkin Loaf.

Note:

Store any leftover Pumpkin Loaf in an airtight container at room temperature for up to 3-4 days, or refrigerate it for longer freshness.

This Pumpkin Loaf is a wonderful way to celebrate the flavors of autumn. It's a versatile and comforting treat that's sure to be a hit with friends and family. From my homestead kitchen to yours, enjoy!