Do you know you can make homemade burger buns?
It's easy, and the buns taste absolutely out of this world. This burger bun recipe isn't just any ordinary recipe; it's a sourdough burger bun recipe! There is nothing quite like fermented grains. Am I right?

I love the simple ingredients. Compare them to what is listed on a bag of buns for sale at the store. Those are loaded with preservatives because they need to stay shelf-stable. Do your body a favor: make burger buns from scratch and skip the preservatives! They taste better, you can freeze them, and you won't be eating any lab-made chemicals.

Summer is approaching, so that means barbeques are just around the corner! Be the BBQ Hero when you bring homemade buns to the feast—everyone will love these fluffy, tasty sourdough hamburger buns.
How do you make homemade burger buns?
Combine sourdough starter, water, flour, butter, honey, and salt. Allow to ferment overnight; then add in the egg the next morning. Shape and bake, and you're done! This recipe makes 8 to 10 buns.

You can knead your dough by hand, or use a mixer like a KitchenAid to do the work. I use my KitchenAid, which is equipped with a kneading hook that does a wonderful job.
What are the benefits of sourdough?
Sourdough is created through fermenting flour. Due to the fermentation process, prebiotics and probiotics are created. These aid gut health! Natural and wild yeasts are used to propagate sourdough, and they have positive effects on a body since they incorporate our surroundings to ease allergies and inflammation.

These buns also taste great sliced, toasted, and topped with butter. I use them with my Sloppy Joes, burgers, and breakfast sandwiches!
Why didn't my sourdough bread rise?
Cold temperatures slow the rising process. Allow for more rising time in a colder climate. Alternatively, if you allow the dough to rise for too long, it can become "over-proofed," which happens when it rises and then falls down. If your dough gets over-poofed, re-shape it, and then let it rise again, this time for less time.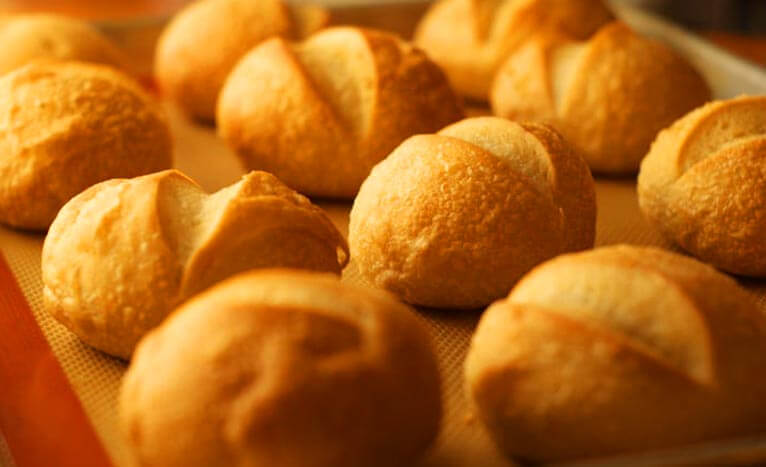 Homemade Sourdough Buns
It's easy, and the buns taste absolutely out of this world. This burger bun recipe isn't just any ordinary recipe; it's a sourdoughburger bun recipe!
Ingredients
1

cup

fed sourdough starter

1 1/2

cups

lukewarm water

3

cups

all-purpose flour

1/2

cup

butter

5

tbsp

honey

2 1/2

tsp

salt

2

eggs
Instructions
Combine the sourdough starter, water, flour, melted butter, honey, and salt in a mixer fit with a knead attachment. Combine and knead together until the dough is smooth and sticks to the attachment. Remove from the attachment and allow it to sit in the bowl and rise overnight (or until it doubles in size). Cover the bowl with a damp towel.

After the dough doubles, add the eggs. The eggs may be difficult to fully incorporate but it doesn't have to be perfect. Use the knead attachment and mix with your hands occasionally to get the egg incorporated. Once it's mostly incorporated, start shaping your buns. The dough will be wet. Section off equal pieces of dough and fold over the edges on itself to shape the buns.

Preheat oven to 350F and line two baking trays with parchment paper. You will have 8 to 10 equal sized buns. Bake for 20 to 30 minutes until the tops are golden brown.