Why buy vanilla at the store when you can make your own vanilla extract?
It's easy and fun... and no funky additives! Vanilla extract is a main ingredient in many baking recipes, so make it a pantry staple.

I'm not sure why I put off making homemade vanilla extract for so long, but I'm so happy I finally decided to take the plunge. It's fun to make, and I can't wait to taste it. A few years ago, Costco had a sale on vanilla extract so I bulked up. I'm planning to use that up by the time my homemade vanilla is done—in about 1.5 to 2 years. Technically, the vanilla is ready after eight weeks, but the longer it sits, the more powerful is the vanilla flavor.

Yes, homemade vanilla extract can take time to make, but the result will blow your mind and be stronger than store-bought vanilla, so you only use a fraction of what you normally would. This is definitely the classic way of making vanilla!
Why make homemade vanilla?
The prices of store-bought vanilla fluctuate, so it makes sense to protect yourself from rising costs and make your own. By making your own vanilla extract, you get to control the strength of the vanilla. Store-bought vanilla always seems bland so I find myself adding more than a recipe calls for. This is probably because store-bought vanilla is an imitation vanilla, and it's loaded with funky preservatives—no thanks!
What ingredients do you need for homemade vanilla extract?
Spiced rum or vodka and whole vanilla beans—that's it!
How do you make homemade vanilla?
Five whole vanilla beans are needed to create two-pint jars of vanilla extract. Cut whole vanilla beans in half, then down the center lengthwise to expose the inner small beans. Put 5 vanilla bean halves in a pint jar. Fill the pint jar with vodka or rum but leave a 1-inch headspace at the top of the jar. Cover with a cut of wax paper then seal the top with a screw-on lid. Allow to brew for 1.5 to 2 years.

Shake the vanilla every day the first month. Then shake once a week for the next four months, then once a month thereafter.

Shaking stirs the beans and rum together, causing the flavors to incorporate better. The longer the vanilla is left to bask in the pantry, the darker and tastier it becomes.
What are the uses for vanilla extract?
The most obvious is baking, but vanilla is used for many other things: removing unwanted odors, as an air freshener, adding to hot beverages (like my Homemade Hot Chocolate), flavoring food dishes, and more.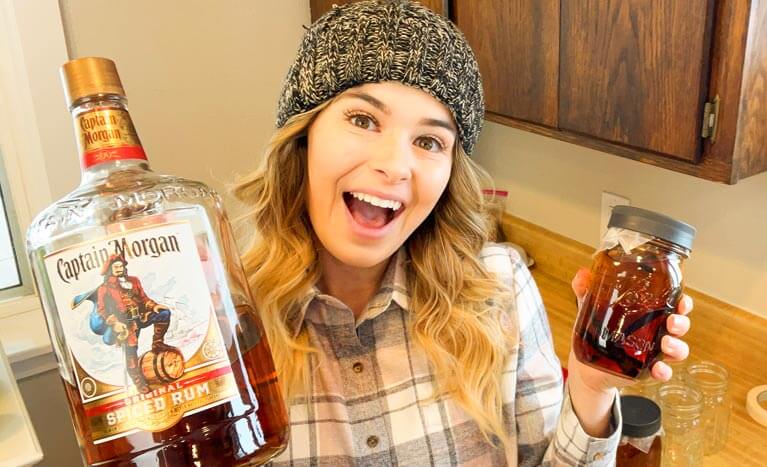 Homemade Vanilla Extract
It's easy and fun... and no funky additives!
Equipment
2 pint jars with seals

wax paper
Ingredients
5

vanilla beans

4

cups of rum or vodka
Instructions
Cut the vanilla beans in half; then slice the halves down the center so the little beans inside are exposed. No need to slice all the way through—just enough to allow the vanilla beans to escape the pod. Place 5 vanilla bean halves in each pint jar.

Pour enough rum or vodka into a pint jar to leave a 1-inch head space at the top. Cut a piece of wax paper to place over the tops. Screw on a lid and shake up. Shake once a day for the first month, then once a week for four months, then once a month for the remaining time. Store out of direct sunlight.
Video