Did you know that those pesky yellow flowers growing in your yard can actually be turned into a tasty jelly? Yes, dandelion jelly! It tastes like apples sweetened with honey, and it is delicious topper to toast or cheese and crackers (trust me.)

Put away the harmful herbicides that are toxic to you and the environment and instead get out a gathering basket or jar and get to work gathering some dandelions. Dandelions have a plethora of uses like salves, tea, vinegar, and my favorite—jelly!

Did you know dandelions are a health food that easily grow without any effort by you? We've been trained to believe they are unsightly, but in reality, they have so many purposes that benefit our health!
What are the health benefits of dandelions?
The leaves, which can be used in salads, contain vitamins A, C, and E. They are also rich in magnesium, potassium, iron, and fiber. If you enjoy summer salads, throw in some dandelion leaves for some added health benefits! The root of a dandelion has been used to aid digestion and the petals are beneficial for your skin (and taste good in jellies.)

The absolute beauty of the dandelion is that the entire plant is edible and is classically known for being a liver tonic.
What can you make with dandelions?
Infused oil, salve, vinegar, jelly, syrup, soap, lotion, tea, tinctures, infusions, and baked goods.

Here on the homestead, I have a few acres of sprawling dandelions. I will never use any weed killer on them because they are beautiful, have medicinal uses, and the bees love them. Dandelions are the bees first food in early spring, so don't kill your dandelions! My whole field buzzes and vibrates during warmer days when the bees are out gathering pollen.

I did gather petals from quite a few dandelions, but there were still thousands left for the bees. It became one of my favorite activities—going out on a warm, sunny day and gathering petals from the dandelion petals. I was determined to make a dandelion jelly this year because who doesn't love homemade jelly and I had an abundance of dandelions, so why not use them?
How do you make dandelion jelly?
Making dandelion jelly is a labor of love. You have to gather two cups of dandelion petals. So no greens, just the yellow petals. I learned the easiest way to do this is to pop the head of the dandelion off, turn it upside down and gently pull off the petals. Shoot for the biggest dandelions first as it makes picking the petals off much easier. Once you have about two cups you make a dandelion tea. The tea is the base of your jelly which you add Sure Jell to and boom, you're pretty much done.
How do you make dandelion tea?
After gathering two cups of dandelion petals, you will want to boil 4.5 cups of water and then pour the boiling water over the petals and steep for about an hour. After the hour is up, strain the petals and you are left with a tea. Use right away or store in the fridge up to 24 hours. After 24 hours, freeze the tea for later use if you don't use it then.
What supplies do you need to make jelly?
Canning supply set
Jelly jars - 8oz Ball jars
Stock pot or water bath canner
Sure Jelly fruit pectin
How do you can jelly?
You use a water bath canner. Heat the jars and lids for 10-15 minutes, so they are sterile. While they are heating make the jelly by following the instructions of the jelly recipe you are making. For this recipe, you combine the dandelion tea with lemon juice, Sure Jell, and 1/4 cup sugar. Bring to a rolling boil, add the remaining sugar at once, bring to another rolling boil, boil for 1 minute, remove from heat, and ladle into clean jars. Secure the lids finger tight and process according to the recipe time. For dandelion jelly, it is 10 minutes. I add 5 minutes of time due to my altitude.
How do you adjust canning processing time for altitude?
Altitude in feet – increase in processing time
1,001-3,000 – 5 minutes
3,001-6,000 – 10 minutes
6,001-8,000 – 15 minutes
8,001-10,000 – 20 minutes

Adjust your processing time according to your height above sea level—altitude.

This jelly is so delicious. It tastes like a sweet honeycrisp apple drizzled in honey. I love it, and I'm glad I made a lot this year! Hoping it takes me through to next year.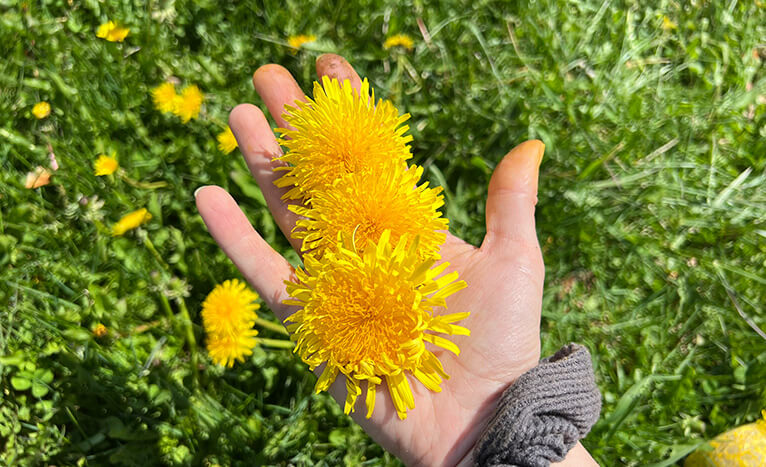 Dandelion Jelly
It tastes like apples sweetened with honey, and it is delicious topper to toast or cheese and crackers (trust me.)
Ingredients
2

cups

dandelion petals

4.5

cups

water

2

tbsp

lemon juice

1

box

sure jell

3

cups

white sugar, divided

5-6

8oz

Ball Jelly Jars
Instructions
Bring 4.5 cups of water to a boil and pour over the dandelion petals in a bowl. Allow to steep for one hour. Either use immediately to make jelly or place in the fridge for 24 hours.

Place 3 cups of sugar in a bowl and take 1/4 cup of sugar from the bowl to combine with the Sure Jell in a separate bowl.

Pour the tea into a large pot on the oven. Add the lemon juice and the Sure Jell that has been combined with 1/4 cup of the 3 cups white sugar. Bring the tea mixture to a rolling boil and pour in the remaining white sugar all at once. This will bring down the boil. Bring back to a rolling boil. Allow to boil for exactly one minute. Remove from heat

Ladle the jelly into clean jars, wipe the rims with vinegar, and place the lids on top. Tighten the bands finger tight.

Process the dandelion jelly in the water bath canner for 10 minutes (adjust for altitude.)

Remove the jars from the water bath canner and allow to sit undisturbed for 24 hours.