So you have a copious abundance of eggs crowding your fridge, and you're wondering how you can preserve the eggs before they go bad causing a stinking mess.
Well, let me introduce you to an easy way to store and preserve eggs: pickling.
I ran into a similar problem recently on the Gubba Homestead where I was given a box of farm fresh eggs, and I didn't know what the heck to do with them! I eat lots of eggs, but I definitely couldn't gobble all these before they went bad. I hate wasting food, so I decided to pull up my overalls and conjure up a plan.
Did you know people used to (and still do) preserve eggs without refrigeration by storing them in lime water? Chickens, in natural conditions and settings, often stop laying eggs once the cooler weather sets in.
On the other hand, when spring is in the air, eggs get laid left and right, so our ancestors had to figure out methods to preserve eggs through the winter. I haven't tried this simple preservation method yet, but I will towards summer's end!
I am setting a goal to preserve enough eggs to sustain 25% of my egg-usage throughout the winter.
I don't want to completely overwhelm myself in this new homestead way of life, so I'm taking simple steps toward 100% self-sufficiency, and I'll revisit egg preservation at summer's end as I prep for winter.
In the meantime, I discovered how to preserve eggs in tasty fashion by pickling!
My dad told me about a time he visited his family homestead. My great grandma, an immigrant from Eastern Europe, carried a thick accent from her native country and spoke broken English.
Although she was in a new land, thousands of miles from family and friends, she brought her life skills along and lived a self-sufficient life. Shelves of canned goods lined the walls of her root cellar—she had food preservation down to a tee.
Although I wasn't there at this moment in time, I can picture those shelves and I assume preserved eggs were among the food items—pickled or in lime water.
I have a photograph of her and my great-grandfather standing outside the homestead and she. She's wearing an apron over her working dress. I think about how she used that hand-sewn apron to gather eggs, shield herself from food splatter, and carry her through her daily duties.
She was incredibly strong, a hard-working centerpiece of the household. I wish I could go back and meet her. I feel as if sharing stories about her brings her to life as she is now a great inspiration and driving force in mine!
I've made the choice to become a better caretaker for myself, and a task as simple as learning to pickle eggs is a big step toward becoming entirely self-sufficient. Pickling is a way to preserve fresh, in-season foods, and that's a skill I need to produce a sustainable garden!
You can pickle fruits and vegetables and line your shelves with canned goods like my great-grandma! These canned goods will carry you through the winter months or emergency situations.
Pickled items last from months to years, depending on the product and canning methods! Wouldn't it be great to replace grocery stores with a reliable source of food? You can also purchase goods from grocery stores or farmer's markets and pickle them yourself!
After staring at the box of farm-fresh eggs, and feeling overwhelmed with the goods I was gifted, I decided to learn a new skill! I set out to find the best pickled egg recipe and I stumbled on a winner:
Kansas Award-Winning Pickled Eggs
Prep time: 10 minutes
Cook time: 10 minutes
Total time: 20 minutes
If it's award winning, it has to be good right?
Well, I put the recipe to the test and I definitely feel it's "award-winning." Not only is this pickled egg recipe easy, but it's incredibly tasty as well! I've never tried anything "pickled" in my life, so I wasn't sure what to expect!
I heard from my chat community (at twitch.tv/gubbatv) that pickled eggs are served as a common bar snack and are delicious! I had seen them at stores and eateries, but I always thought jarred eggs were weird. I'm happy to finally grow as a person by giving something new a try!
I'm also learning new life survival skills. Here's the recipe: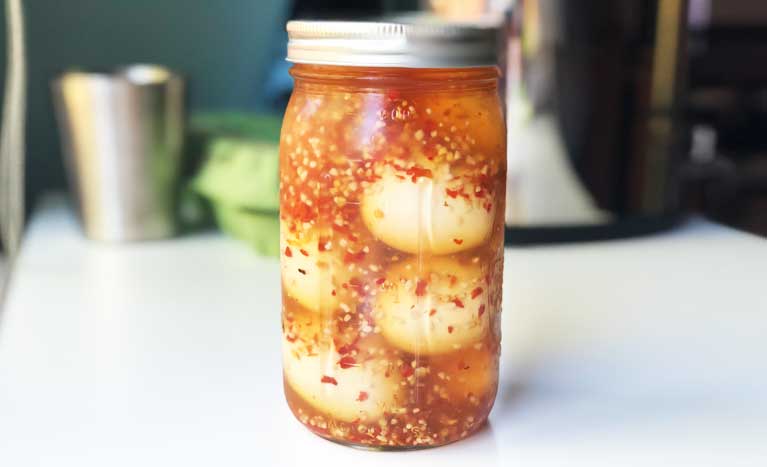 Kansas Award Winning Pickled Eggs
Well, I put the recipe to the test and I definitely feel it's "award-winning." Not only is this pickled egg recipe easy, but it's incredibly tasty as well!
Ingredients
1

dozen eggs (left on the counter for 4 days)

2

tbsp

sugar

2

tbsp

salt

1

tbsp

minced garlic

1

tbsp

crushed red pepper flakes

1/2

cup

fresh squeezed lime juice

2-3

cups

white vinegar
Instructions
Submerge eggs in water in a pot and bring the water to a hard boil. Boil for 2 minutes; then remove from heat, cover, and allow the eggs to sit for 8 minutes.

While the eggs sit, combine the sugar, salt, garlic, red pepper flakes, lime juice, and vinegar.

After 8 minutes, wash the eggs in cold water, peel, and place into a quart jar, gently pushing down the top to fit in as many eggs as possible.

Pour the vinegar brine over the eggs and into jar to the top. Seal the jar with the lid and turn up and down a few times. Store in the fridge for up to a week and then enjoy!
Video