Summertime is smoothie-time! With the heat taxing my mind and body, I cool down with homemade kefir smoothies every night! If you don't know what kefir is, it's fermented milk you can make at home. I wrote a blog about how to make it and the health benefits.
I start off every day by making a new batch of kefir: 2-3 cups a day, and I consume that amount in smoothies. Smoothies were not my thing, but since I started making kefir, I now enjoy them more often! Kefir smoothies are easy, creamy and delicious. If you don't have kefir, that's okay! Use any type of milk in place of kefir! Your smoothie may be less creamy with straight milk, but that's okay. Also add a 1/2 cup to 1 cup of plain yogurt to make it a bit creamier without kefir.
Here are a few common questions I receive about kefir:
How do you make kefir?
Read my in-depth blog about how to make kefir. Making kefir is incredibly simple and takes about 5 minutes.
All you need is…
that's it!
My kefir ferments for about 24 hours on my counter, so I wake up to a fresh batch every single morning!
What are the benefits of milk kefir?
Kefir is rich in probiotics. Yogurt is also rich in probiotics, but kefir is like yogurt on steroids lol. It's jam-packed with gut-healthy bacteria and can have 50+ types of beneficial gut-biome bacteria. Kefir can assist in rebuilding a healthy gut. Whereas, yogurt generally has 5-7 strains of bacteria, so it's good but not as great!
How is kefir different from yogurt?
Kefir is like a drinkable yogurt. It's not as thick as yogurt, but thicker than ordinary milk. It tastes like plain yogurt to me—a bit tangy, so I blend it with fruit and spices to make creamy kefir smoothies.
Over the past month, I've experimented with many different fruit kefir smoothies and I've found a winner! Not only do I make delicious smoothies with fruit, but I also incorporate spices to help digestion and bring another depth of flavor—yum!
My favorite spices to add into smoothies are cinnamon, allspice, ground clove, and mint. These enhance the flavor. Cinnamon improves circulation and aids digestion of fats and cold foods (like smoothies) among many of its powerful uses! Allspice is high in vitamins and minerals like iron, manganese, and calcium. It aids digestion and brings a warm flavor to the table, like cinnamon! Cloves are one of my favorite spices because they pack a warm, spicy punch. I use ground cloves in my smoothies to help aid digestion and open the sinuses. Dairy can cause excess mucous to form in the body, but cloves—with their antibacterial properties—help the body remove mucous. Mint grows abundantly in my backyard, so I had the idea recently to toss some leaves into my smoothie, and it was a game changer! Not only does mint aid digestion, but it also alleviates allergies and hay fever.
If I just blended kefir and fruit together the result would be mundane; I probably wouldn't care much for homemade smoothies. Now that I incorporate spices and fresh herbs, smoothies are an everyday delight.
This kefir smoothie is the best smoothie I've created so far. It's healthy, tasty, and easy to make. Let's get blending!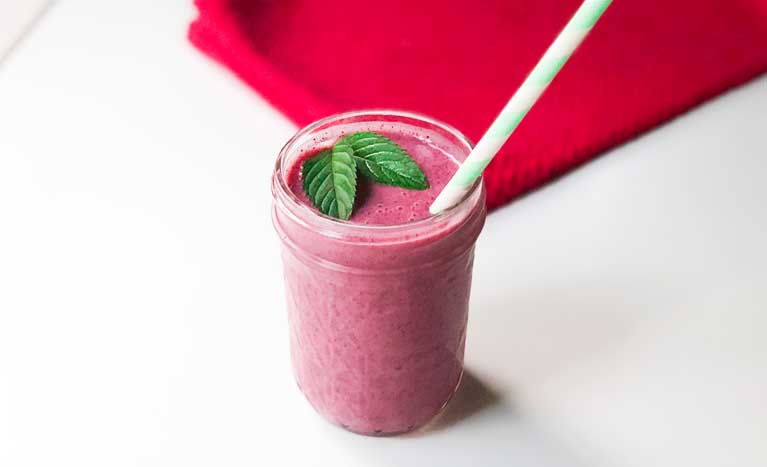 Kefir Fruit Smoothie
Summertime is smoothie-time
Ingredients
2

cups

kefir or milk

2

bananas

1

cup

strawberries

1/2

cup

blueberries

4

mint leaves

1/2

tsp

cinnamon

1/8

tsp

ground clove

Dash of allspice
Optional Items:
1

tsp

chia seed (for additional nutrients)

1

tsp

fresh line juice (for tarty lime flavor)
Instructions
Blend all ingredients in a blender. If the smoothie is too thick, add in more kefir or milk. To thicken up the smoothie add in yogurt or more blueberries, depending on your preferred taste.