If you don't love nachos, you just haven't had good nachos yet!
They are the perfect appetizer, game-day snack, or a fun kid-friendly family dinner. Nachos were an exciting dinner and it felt like a rare treat when I was younger. I can still picture my mom prepping the cheesy loaded nachos on a big dinner plate and nuking them in the microwave. Loaded nachos for dinner usually coincided with family movie night, so I always loved them!
Recently, I acquired a cast iron skillet, and I've been obsessed. The first official cast iron dinner I cooked was vegetarian loaded nachos! Cast-iron nachos are so incredibly yummy! I ended up making these easy cast-iron nachos two days in a row. No joke, they're that good!
This yummy nacho recipe is versatile; simply add meat or swap out any ingredients you don't like for those that you do! Because I'm vegetarian, I loaded these campfire inspired nachos with vegetables, beans, and cheese! I lightly sprinkled these baked nachos with taco seasoning, which adds a depth of flavor nachos need.
The process for making cast iron nachos is simple: layer chips on the bottom of the skillet and sprinkle with cheese and assorted toppings. If you're extra hungry or feeding a family, add another layer of chips, cheese, and toppings. Multiple layers are important in loaded baked nachos. Layers allow for all the chips to get coated in goodness. I've never enjoyed nachos with cheese and toppings on only the top layer.
Use freshly-grated Monterey Jack cheese for this tasty nacho recipe. Monterey Jack is a great melter, and freshly-grated it tastes worlds better than pre-grated! Not only does it taste better, but it melts better. You could also try sharp cheddar or pepper jack cheese. YUM!
The chips you use in these easy cast iron nachos make all the difference. Use a sturdy tortilla corn chip that stays crunchy and holds up under all the ingredients and baking. There's nothing worse than a soggy nacho chip! I found some round corn tortilla chips at my local grocery store that worked great!
Let's get stackin'!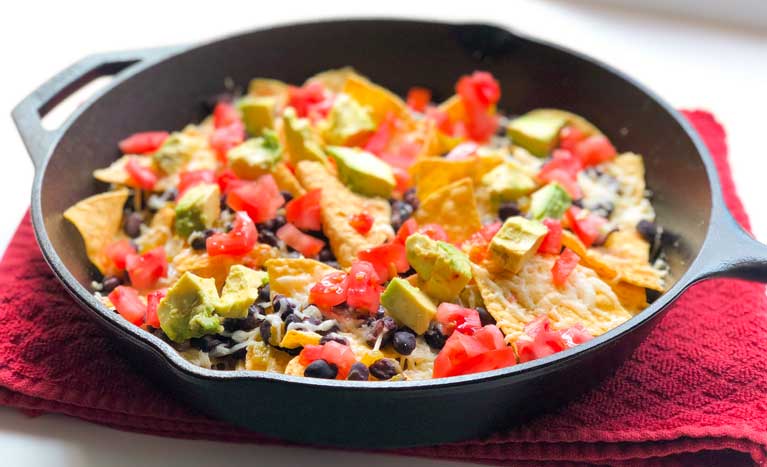 Loaded Cast Iron Nachos
If you don't love nachos, you just haven't had good nachos yet!
Ingredients
1

bag

corn tortilla chips

1

15oz

can black beans, drained

1

4oz

can diced green chilies, drained

1

tomato

1

avocado

1

16oz

block of Monterey jack cheese

1-2

tsp

taco seasoning
Instructions
Preheat oven to 400F. Place a single layer of chips on the bottom of an oven-safe cast iron skillet. Sprinkle the cheese over the chips. Sprinkle the taco seasoning on the cheese. Spread the beans and chilis on top of the chips.

Repeat the layering process, if you would like more nachos.

Place the nachos in the oven for 5-10 minutes until the cheese is melted to your preference.

While the nachos are baking, dice up the tomato and avocado.

After removing the nachos from the oven, top with diced tomato and avocado.