Summer is heading into the second half, but that means cherries are ripe and ready to be picked and baked into scrumptious goodies.
I recently baked miniature cherry pies and posted a picture of them to my Instagram Story. I received an overwhelming response—people loved them! Not only are mini cherry pies incredibly tasty, but they are a fun treat to throw together with summer cherries. When a friend with a cherry tree brought me a gallon bag of cherries, I wondered what the heck to do with so many cherries, and cherry pie crossed my mind.
I didn't have time for a traditional cherry pie, so I chose to make mini cherry pies instead. I've made them from scratch before, so it didn't seem daunting and was actually quite easy! A special thanks to my Kitchenaid stand mixer for mixing my pastry dough—I don't like the feeling of flour on my hands, so a mixer simplifies dough-making. My grandma and great-grandma would likely find humor in me not liking flour on my hands since they created hand-made, from scratch, pies for themselves! So here I am, decades later, using a stand mixer and not touching the flour—the drama! My generational ancestors used flour freshly ground from berries daily. Oh, if only I could witness the majesty of a true from-scratch kitchen!
To align myself closer to my homesteading forebears, I made the pie crust from scratch! No store-bought pie doughs for me. Homemade pie crust is easy and fulfilling plus you don't have weird preservatives lurking in the ingredients list—all natural baby! Pie crust from scratch also tastes better than any crust the store can offer. Let me teach you how to make homemade cherry pies with this quick and easy cherry pie recipe.
The last time I made homemade miniature pies, I created traditional pie tops by laying a cutout of pie crust on top of the filling and making slits. Sure, that's easy, but it isn't as pretty as a lattice pie top. This time around, I took the time to make pretty lattice pie tops, and the final product was worth the effort.
How do you make lattice pie tops?
Make lattice pie tops by rolling out the refrigerated pie crust dough to about a 1/4 of an inch thick; then use a wide mouth Mason jar band to cut out 12 circles. Roll each circle out to 5-6 inches in diameter; then use a knife or pizza cutter to make 6 strips (1 cm wide), and then weave the strips over the top of the bottom pie crust and filling.
If you don't want to spend time cutting the pie crust dough into strips, skip that step and place another rolled out pie crust (5-6 inches in diamerter) on top of the pie filling and cut slits in the top to ventilate the filling.
Why use cold butter for pie crust?
When cold butter is baked, it creates air pockets in the crust leading to a flaky pie crust—yum!
How do I pit cherries?
Purchase a cherry pitter . Pitting the cherries is the most tedious task of this recipe, so a cherry pitter makes it easier and less time-consuming. You can even get a multiple cherry pitter if you don't want to pit cherries one by one.
Let's get baking!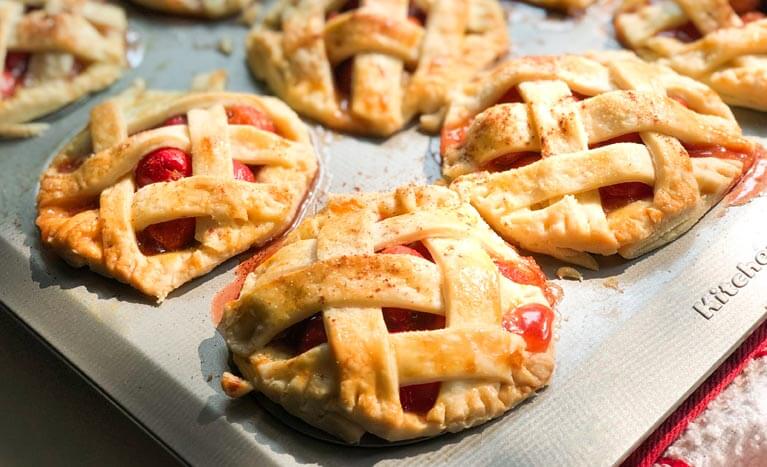 Mini Cherry Pies
Summer is heading into the second half, but that means cherries are ripe and ready to be picked and baked into scrumptious goodies.
Ingredients
5

cups

all-purpose flour

2

tsp

salt

2

tbsp

sugar

2

cups

butter, cold

1/2

cup

water
Filling:
2

pounds

pitted cherries, tart or sweet

1/2

cup

sugar

2

tbsp

fresh lemon juice

2

tbsp

cornstarch

2

tsp

cinnamon
Other Ingredients:
1

egg yolk

1

tbsp

water

1

tbsp

sugar

1

tsp

cinnamon
Instructions
Mix together the flour, salt, and sugar in a stand mixer fit with the pasty hook, or mix by hand. Mix in the butter or cut it in with a pastry cutter. Slowly add in the water until the dough is flaky but comes together when squished with your hands. If it won't come together, add in water 1 tablespoon at a time until it does.

Roll the dough into a ball and divide in two. Roll each ball out into a 1-inch thick disc. Wrap and place in the refrigerator to chill for 1 hour.

Pit and wash cherries. In a mixing bowl, mix the cherries with the sugar, fresh lemon juice, cornstarch, and cinnamon. Set aside.

After 1 hour, remove the dough from fridge. Preheat oven to 375F and grease a muffin tin. On a floured surface, roll out each disc of dough to a 1/4 inch thick. Using a wide-mouth Mason jar band, cut out 12 rounds from each disc. Roll each round out to about 5-6 inches in diameter. Fit 12 rounds into the greased muffin tin.

Fill each pie crust with a heaping amount cherry pie filling, but make sure it's not overflowing to the edges of the crust.

Using the other 12 rolled out rounds of pie crust, either place them over the pie filling and cut slits in the top or cut the rounds into 1 cm strips and use the strips to create a lattice on top of the pie. Before placing your top crust on, mix together egg yolk and water and brush the egg wash along the edges of the bottom pie crust—this sticks the bottom and top pie crust together.

Press edges together with a fork and trim excess crust around the edges with a small knife. Brush the tops with the egg wash and sprinkle cinnamon sugar over the crusts (1 tablespoon sugar and 1 teaspoon cinnamon.) Bake for 30-35 minutes or until the tops are golden brown.