Another Easter! Family will be hopping over and you'll be hopping around the kitchen deciding what to cook! While you're making brunch, late lunch, or dinner, give the kids a recipe to make on their own. This easy healthy Easter dessert is kid friendly and the perfect task to preoccupy them while you glaze the ham!
These no-bake Easter fruit tarts are so delicious and simple! I immediately ate two when I was finished cooking. I love fruit tarts, and especially healthy fruit tarts. These egg-shaped no bake fruit tarts are fun to decorate and even the pickiest of eaters can't say No! The healthy Greek yogurt topping looks like a frosting and tastes like one because it's decorated with fruit that adds a POP to the flavor!
You can easily prepare and shape the tart crust. The kids can decorate the tops with the frosting (Greek Yogurt) and edible Easter décor (blueberries, strawberries, and bananas). Kids love to eat things they create, so this is the perfect opportunity to get them hooked on a healthy fruit tart!
The crust includes peanut butter, or other nut butters, but I chose to use peanut butter because I'm a peanut butter fanatic. I love it! It pairs so well with fruit. CRUST TIP: once your crust sticks together in your hand, but doesn't actually stick TO your hand, then start shaping it into an Easter egg tart! Don't let it be so crumbly that you can't pick it up or shape it because it won't stick together, and that will certainly MAKE THE EASTER BUNNY UNHAPPY! And don't let it be so wet that it sticks to you or the parchment paper. The bunny would never forgive you, and they won't turn out perfect. The consistency is similar to my energy bites—it sticks together but does not stick to you!
You can use a variety of fruit to decorate the eggs. I used blueberries and strawberries. I know that bananas make a delightful top to this tart because the crust is made of peanut butter! I love the flavor of strawberries paired with Greek Yogurt and crust as they are sweeter than blueberries, but I have a sweet tooth. Kids love decorating their tart, so give them a few options and tell them they have the super important task of making Easter egg fruit tarts! Before I ate these, I added more fruit to the tarts (more than is shown in the photos). I stacked on the strawberries! YUM!
I couldn't help but think how my Easter fruit tarts rung with celebration because of their red, white, and blue colors. It would be so fun to shape these no-bake tarts into flags for July 4th! They're so easy to throw together and versatile for holidays, depending on how you decorate and shape the tarts! I placed the extra Easter fruit tarts in the fridge to enjoy later! These are the perfect healthy Easter treat to enjoy this year!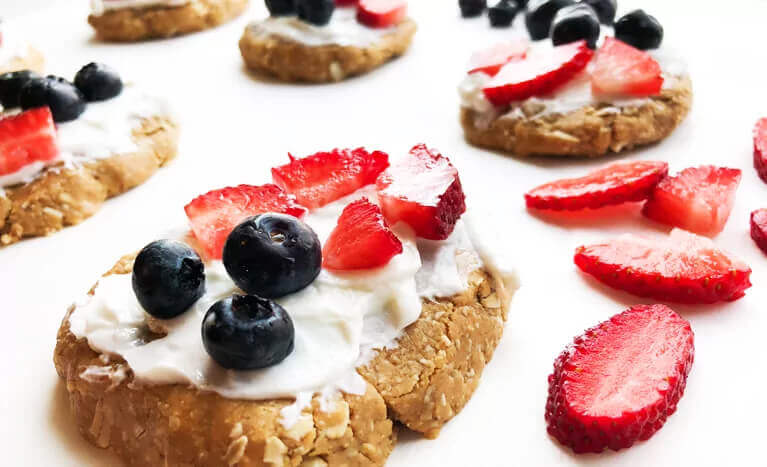 No Bake Easter Egg Fruit Tart
This easy healthy Easter dessert is kid friendly and the perfect task to preoccupy them while you glaze the ham!
Ingredients
1

cup

peanut butter

1/4

cup

honey

2

tsp

vanilla

1/4

tsp

salt

2

cups

dry oats (divided)

Greek yogurt for frosting

2-3

sliced strawberries

1

cup

blueberries

Optional: sliced bananas, sliced grapes, mandarin oranges
Instructions
Place the peanut butter, honey, vanilla, and salt in a microwave safe bowl and microwave for 15 seconds. Stir together until smooth

In a blender, blend 1 cup of oats until fine to make an oat flour then mix in with the peanut butter mixture. Add in the other cup of oats slowly until you get the desired crust consistency.

On laid out parchment paper, form the crust into Easter egg shapes; then decorate with the Greek yogurt and various fruit toppings.

(OPTIONAL) Place in the fridge for 1-2 hours. This helps the crust become solid. I was able to pick my eggs up with no bending or breakage at all after they sat in the fridge. It wasn't an issue before, but they're even more solid with a sit in the cool fridge.