Pumpkin Spice Latte Cupcakes are the perfect autumn treat for coffee and pumpkin spice lovers. These cupcakes capture the essence of a classic fall beverage with the rich flavors of pumpkin, espresso, and warming spices. Whether you're hosting a cozy gathering or simply craving a taste of the season, these cupcakes will satisfy your cravings.
Seriously, as soon as the leaves start to change colors, I become inspired to transform my desserts from fruit trays to pumpkin spice themed. Something about pumpkin sifted with spices screams fall to me. Have you ever thought about pairing pumpkin and espresso? It is a fall dream!
Can I use fresh pumpkin instead of canned puree?
Yes, you can use fresh pumpkin puree. Simply roast and puree a small pumpkin, and use it as a substitute for canned pumpkin puree. You need the small pie pumpkins from the store or you can even grow them for yourself ahead of time. I have used fresh pumpkin puree for my pumpkin recipes and it brings a whole new fresh pumpkin flavor to the desserts. Give it a try when you have time!
What kind of coffee should I use for the espresso in the recipe?
You can use brewed espresso if you have an espresso machine, or you can use strong, dark coffee as a substitute for espresso in the recipe.
Can I make these cupcakes without coffee for a caffeine-free version?
Yes, you can omit the coffee and use an equal amount of milk instead if you prefer a caffeine-free version.
What type of spices are in pumpkin spice?
Pumpkin spice typically consists of a blend of ground cinnamon, nutmeg, cloves, and sometimes ginger. It's readily available in stores or can be made at home. Don't stress if you don't have "pumpkin pie spice" in your spice cabinet. Here is how you make it:
Ingredients:
3 tablespoons ground cinnamon
2 teaspoons ground ginger
2 teaspoons ground nutmeg
1½ teaspoons ground allspice
1½ teaspoons ground cloves
Combine these spices and keep in a container. Use whenever a recipe calls for "pumpkin pie spice."
How should I store these cupcakes?
Store the cupcakes in an airtight container in the refrigerator. They can be kept for up to 3-4 days.
Can I freeze these cupcakes?
Yes, you can freeze the cupcakes without frosting. Place them in an airtight container or freezer bags and store for up to 2-3 months. Frost them after thawing.
What's the secret to a perfectly moist cupcake?
The combination of pumpkin puree and brewed coffee keeps these cupcakes moist and flavorful. Don't overbake them, as this can lead to dryness.
Can I use a different frosting flavor?
While cream cheese frosting complements the flavors of these cupcakes, you can experiment with other frostings like cinnamon or maple for a different twist.
How can I make these cupcakes look more festive for fall?
Consider topping each cupcake with a sprinkle of ground cinnamon or a small piece of cinnamon stick for a festive touch.
What's the best way to transport these cupcakes for an event?
To transport cupcakes, use a cupcake carrier or place them in a snug-fitting container to prevent them from tipping over or getting damaged.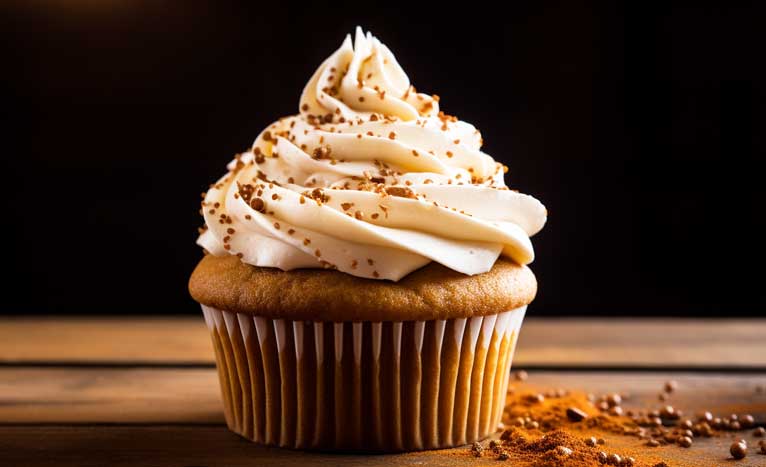 Pumpkin Spice Latte Cupcakes
Pumpkin Spice Latte Cupcakes are theperfect autumn treat for coffee and pumpkin spice lovers.
Equipment
Muffin tin

Cupcake liners

Mixing bowls

Electric mixer
Ingredients
For CupCakes:
1 1/2

cups

all-purpose flour

1

tsp

baking powder

1/2

tsp

baking soda

1/2

tsp

salt

1

tsp

ground cinnamon

1/2

tsp

ground nutmeg

1/4

tsp

ground cloves

1/2

cup

unsalted butter, softened

1

cup

granulated sugar

2

large eggs

1

cup

canned pumpkin puree

1/4

cup

brewed espresso or strong coffee

1/4

cup

milk
For Frosting:
8

oz

cream cheese, softened

1/4

cup

unsalted butter, softened

2

cups

powdered sugar

1/2

tsp

vanilla extract

Additional espresso or coffee for flavor (optional)
Instructions
Preheat the Oven: Preheat your oven to 350°F (175°C). Line a muffin tin with cupcake liners.

Make the Cupcake Batter: In a bowl, whisk together flour, baking powder, baking soda, salt, and spices (cinnamon, nutmeg, cloves).

In a separate bowl, cream the softened butter and granulated sugar together until light and fluffy.

Beat in the eggs, one at a time, followed by the pumpkin puree.

Mix in the brewed espresso (or strong coffee) and milk.

Gradually add the dry ingredients to the wet ingredients and mix until well combined.

Fill the Cupcake Liners: Divide the cupcake batter evenly among the prepared cupcake liners, filling each about two-thirds full.

Bake: Place the muffin tin in the preheated oven and bake for 18-20 minutes or until a toothpick inserted into the center of a cupcake comes out clean.

Make the Frosting: While the cupcakes are cooling, prepare the frosting. In a mixing bowl, beat together the softened cream cheese and softened butter until smooth.

Gradually add the powdered sugar and vanilla extract, continuing to beat until the frosting is creamy. Add additional espresso or coffee if you want to enhance the coffee flavor.

Frost the Cupcakes: Once the cupcakes have cooled completely, frost them with the cream cheese frosting using a spatula or piping bag.

Serve: These Pumpkin Spice Latte Cupcakes are ready to be enjoyed! Sprinkle with a dash of ground cinnamon or nutmeg for an extra touch of flavor if desired.

Enjoy!
These Pumpkin Spice Latte Cupcakes bring the delightful combination of pumpkin and coffee to your dessert table. Share them with friends and family or savor them as a personal treat with your favorite coffee beverage.