Banana bread is a staple recipe that surely everyone has heard of or baked at some point in their life. You can check out my favorite homemade banana bread recipe.
This past week I was again left with a few overripe bananas, but I didn't want to make a simple banana bread bread—I wanted to spice it up a bit. My end baking result was a blueberry banana oat bread, and it was delicious! Frozen blueberries were piling up in my freezer, ripe bananas needed to be utilized, and old-fashioned oats are always a health bonus to any recipe!
Blueberry banana bread is simple to make, but I changed it up a bit by throwing in a cup and some of old-fashioned oats into the batter. I even sprinkled some oats on top of the batter before I placed it in the oven. The blueberries are packed with antioxidants and the bananas are loaded full of potassium. Oats are heart healthy, so I was feeling pretty ecstatic about this healthy banana bread recipe.
How do I store banana bread?
I keep my banana bread on the counter, covered, for about 3-5 days. You an also freeze banana bread and enjoy at a later date!
To begin, you mash the bananas in a large mixing bowl and mix in the butter, sugar, and vanilla. Add in the dry ingredients, fold in the blueberries and pour into a greased loaf pan. Throw it into the oven and we're in business! Seriously, this is the easiest blueberry banana bread recipe you will ever make.
I wanted to keep this recipe to one bowl for less dishes and it worked out spectacular! Usually, you will mix the dry ingredients in a separate bowl to ensure an even dispersal of baking soda and baking powder, but this worked out and I had no issues with my tasty berry banana bread rising uniformly. To be entirely sure of even dispersal though, you would want to whisk the dry ingredients in a separate bowl then pour into the wet ingredients. Because less dishes are a higher priority for me, I stuck with a one bowl banana bread recipe.
Essentially, I took the best banana bread recipe and added in blueberries and oats and kept it to one bowl for easier clean up. This loaf doesn't have an overpowering banana flavor like a simple banana bread recipe, but instead it has berry pockets that burst with blueberry flavoring and a slight grain taste of oats. Healthy!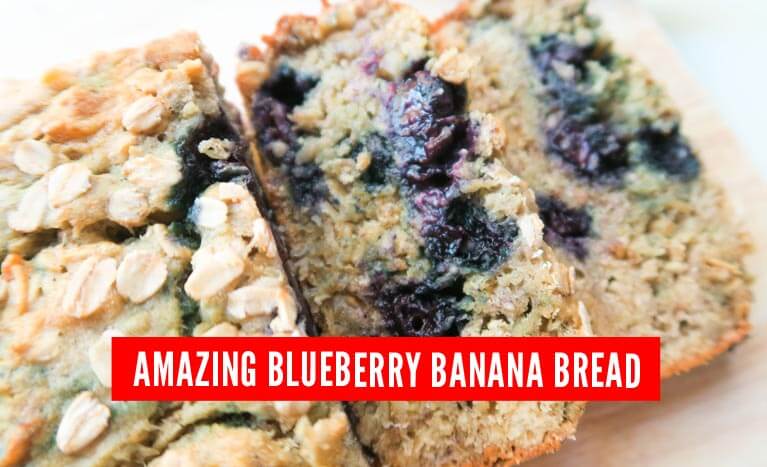 Blueberry Banana Bread
Banana bread is a staple recipe that surely everyone has heard of or baked at some point in their life.
Ingredients
4

ripe bananas

1/3

cup

melted butter

1/3

cup

brown sugar

1

tsp

vanilla

1

cup

flour

1 1/4

cup

old fashioned oats

2

tsp

baking powder

1/2

tsp

baking soda

1/4

tsp

salt

Dash all-spice

1

cup

frozen blueberries
Instructions
Preheat the oven to 350F and grease an 8×4 loaf pan and set aside.

In a large mixing bowl, mash the bananas until no large chunks remain and add in the melted butter, brown sugar, and vanilla. Stir to combine. Add in the flour, oats, baking powder, baking soda, salt, and dash of all spice. Mix together. Fold in the blueberries.

Pour the batter into the prepared loaf pan and bake for 50-60 minutes until the top is golden brown and an inserted toothpick comes out clean.