Do you want to make sourdough bread, but feel the process is a bit daunting?

I understand. Each week I bake sourdough English muffins, but this week I didn't feel like baking individual muffins, so I made sourdough English muffin bread. Yes! This bread has the flavor and texture of English muffins but making it is completely hassle-free and requires a fraction of your time. All you need is a sourdough starter, some pantry staples, a loaf pan, and you have an easy sourdough loaf!

I made the sourdough English muffin dough yesterday and allowed it to rise overnight, but in the morning, I didn't want to spend time crafting and baking individual muffins in my cast iron pan. I was tired and didn't want to waste the dough. I figured why not try something new and throw it into a loaf pan and see what the heck comes out. I was incredibly happy with the result! I don't think I'll go back to making individual muffins again because this sourdough bread tastes the same as a muffin, but it's now in loaf form lol.

Sometimes I'm bothered by tedious recipes because I simply don't have the time. This sourdough English muffin bread is so incredibly easy PLUS you still get the health benefits of sourdough!


What is a sourdough starter?
Living, fermented dough filled with natural, wild yeast that makes baked goods rise! Essentially, it's fermented flour and water.
What are the health benefits of sourdough?
Fermentation is everything! The fermentation process provides prebiotics to the gut and makes it less likely that blood sugar is spiked. Our gut microflora feed on these prebiotics, allowing them to flourish. Sourdough bread is also easier to digest due to the degradation of gluten during the fermentation process.
What can I use a sourdough starter for?
SO MUCH! You can use it in place of yeast, so you never have to run to the store for more yeast. You can bake sourdough brownies, cinnamon rolls, cookies, crackers, burger buns, and more!
How do I maintain a sourdough starter?
You feed it starter flour and water. The feeding frequency depends on how the starter is used. I keep my starter in the fridge, which keeps it slow-moving, so I need to feed it once a week when I bake goods with it.

I currently maintain two sourdough starters; each produces baked products with a slightly different flavor. I don't remember how I got two, but I've just kept them going by feeding them weekly. Having two starters allows me to experiment. I can completely mess up one of them, and I still have the other as backup. Both starters originated from one and I even revived the original starter back to health after not feeding it for about a month. I was surprised to revive a completely dry starter, but a year later I'm still baking delicious sourdough goods with that starter!

Let's make this easy sourdough recipe! It's a modified version of my sourdough English muffin recipe.t here...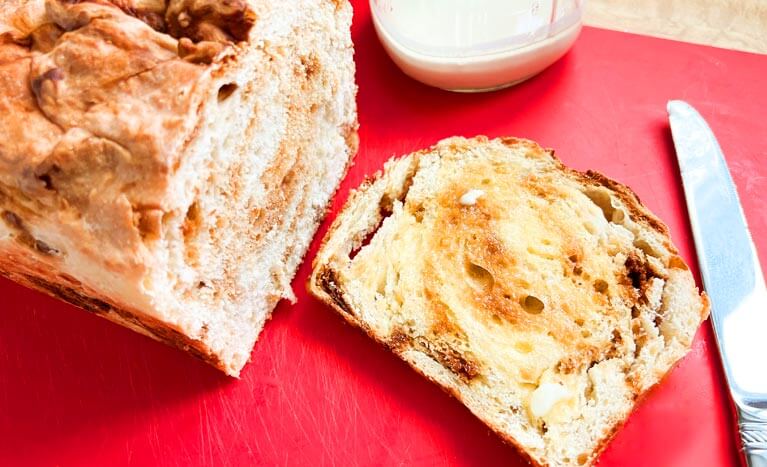 Sourdough English Muffin Loaf
I created this sourdough English muffin loaf recipe for a easy and delicious morning breakfast!
Ingredients
1/2

cup

active sourdough starter

1

cup

lukewarm water

2

cups

bread flour (or all-purpose flour)

1

tbsp

honey

1

tsp

baking soda

1/2

tsp

salt

Butter for greasing the loaf pan
Instructions
Combine the sourdough starter, water, and flour in a bowl. Cover with a damp kitchen towel and allow it to rise for 12 to 24 hours—it should double in size.

After the dough rises, mix in the honey, baking soda, and salt.

Preheat the oven to 350F and grease a loaf pan. Shape the dough into a loaf and place it in the loaf pan.

Bake for 45 to 50 minutes* until the top is browned and an inserted toothpick comes out clean!

Remove from oven, allow to cool. Enjoy with butter and honey!
Notes
*Your oven may bake faster or slower than mine. I've noticed my gas oven bakes faster than my previous electric oven. Keep an eye on the TOP of the loaf—you want it brown, not burned!