Instant Pot Minestrone Soup is easy and healthy! This recipe is hearty and packed to the brim with nutrients ready to elevate your well-being. I love the easiness of throwing together vegetable soups, and the Instant Pot makes that task easy! Need something simple for an Easter Brunch? Well, this easy vegetable soup is it!
I love the simplicity of this Instant Pot recipe, and I make it often. I even made it in the dead heat of summer last July because it's just that delicious! My favorite part about this recipe is the Instant Pot creates an easy one pot meal, and all I have to do is provide the tasty ingredients!
This easy Instant Pot recipe is also customizable. You can add or substitute in different vegetables or beans that fit your taste palate! For this simple Minestrone soup recipe, I use a pack of frozen mixed vegetables—corn, green beans, carrots, and peas. You can also add in celery or zucchini. You could also substitute cannellini beans for the kidney beans.
The inspiration for this recipe came from the Olive Garden Minestrone Soup. I make sure to always order a bowl whenever I go there for dinner. Due to the Covid-19 Pandemic, I haven't been to Olive Garden (I sure miss their breadsticks). This recipe is definitely an easy Olive Garden CopyCat Minestrone Soup that has become a Covid-19 favorite recipe.
I love the fact that this tasty Minestrone soup is also vegetarian and vegan friendly! You can add in chicken or beef, but I think it's delicious as is. Due to the nature of Minestrone soup, the flavor complements a variety of vegetables and beans. This is a hearty and healthy soup to start with, so add ingredients as you see fit. You can make this soup even healthier by substituting traditional white flour pasta with quinoa, whole wheat flour pasta, garbanzo pasta, or lentil pasta! Gluten-free is also an option with fluten-free pasta.
You can cook this homemade Minestrone Soup along with me by watching my cooking vlog here: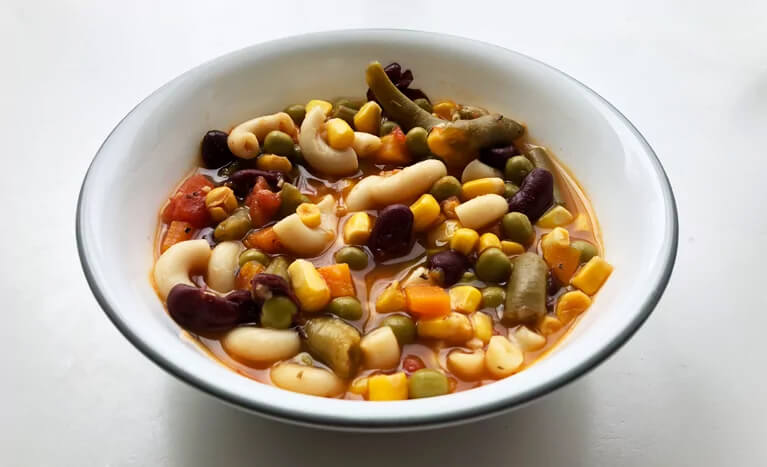 Instant Pot Minestrone Soup
This recipe is hearty and packed to the brim with nutrients ready to elevate your well-being.
Ingredients
1

tbsp

olive oil

3

tbsp

minced garlic (more or less depending on what you like)

1

32oz

frozen mixed vegetables

1

15oz

can of diced tomatoes (plus juice)

1

15oz

can of kidney beans (drained)

1

tsp

paprika

pinch of cayenne (optional for heat)

4

cups

vegetable broth

1

cup

water

1/2

cup

dry macaroni
Instructions
Set Instant pot to sauté and pour in your olive oil. Let it heat up for about 1 minute and then put a little garlic in. If the garlic sizzles, then the oil is hot enough, and add all your garlic. Cool for about 1-2 minutes while stirring so it cooks evenly. Don't overcook because you don't want to burn the garlic. Turn off the instant pot.

Add the vegetables, diced tomatoes (+ juice), drained kidney beans, seasonings, and vegetable broth to the pot. Put the lid on and lock into place. Press "manual" or "pressure cook" (depending on your model) and cook for 10 minutes. Note: This will take time as it has to pressurize, so it will take a bit longer than 10 minutes total. Once finished cooking, release the pressure through the valve on top or allow it to naturally release (follow the instruction manual on how to do this). Take the lid off and stir.

Press Sauté and allow the soup to come to a boil. Add the noodles and allow to cook 8-10 minutes until the noodles are done. Turn off the instant pot.