A crisp cool ambiance is sweeping through the air as summer concludes. I welcome the weather change with hearty meals like soups, chili, and baked casseroles. This week I threw together a favorite fall and winter meal: One Pot Cheesy Chili. It's delicious! So delicious that I ate four bowls right after it was done, lol.
How do I make a one-pot meal?
Easily! Combine the ingredients into one pot and cook! Some ingredients are added at different times due to their individual cook times, but only one large sauce pan is required! I love one-pot meals because they have less mess for easy cleanup!
This tasty vegetarian chili is creamy and cheesy! If you want to add meat, add cooked and seasoned ground beef. The ground beef is a great, easy addition to this tasty chili! The seasonings bring it together, so you will enjoy the chili, even without meat.
What seasonings do I use for chili?
Chili powder of course. I also use ground cumin, smoked paprika, salt and pepper. I love the chili powder spiciness and the smoky accents from the cumin and smoked paprika. Salt and pepper are seasonings everyone should be familiar with! All these spices come together, adding multiple layers of flavor. The sum is greater than the parts, so to speak. Throw in a hint of ground cayenne pepper for heat.
I love the ingredients in this easy chili recipe; you likely have them sitting in your pantry: white onion, garlic, butter, flour, chili powder, cumin, smoked paprika, salt, pepper, black beans, kidney beans, garbanzo beans, corn, diced tomatoes, tomato sauce, vegetable broth, macaroni noodles, and cheese! I have these ingredients on hand whether they are fresh, frozen, or canned!
To make this one-pot dinner, melt the butter in a large sauce pan over medium heat and add in the diced onion and garlic. Cook until translucent, about 3 minutes; then add in the flour and seasonings and stir for 1 minute. Add the beans, corn, tomatoes, and broth. Stir to combine; then add the macaroni noodles. Bring the pot to a boil, cover, and reduce to low heat and cook for 13 to 15 minutes until the noodles are done. Add the cheese and serve! It's that simple.
Let's get cookin!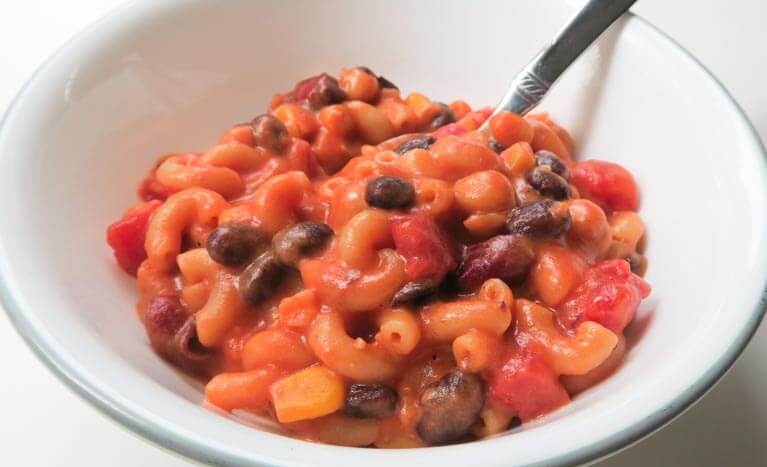 One Pot Chili
Easy one pot meals like this are quick cleanups and quick cooks.
Ingredients
1

white onion, diced

6

cloves garlic, finely chopped

1/4

cup

butter

2

tbsp

flour

1

tbsp

chili powder

1

tsp

cumin

1/2

tsp

smoked paprika

1

15oz

can black beans

1

15oz

can kidney beans

1

15oz

garbanzo beans

1

15oz

can corn

1

15oz

can tomato sauce

1

15oz

can diced tomatoes

2

cups

vegetable broth

1

cup

shredded sharp cheese

salt and pepper to taste

1

4oz

container shredded parmesan
Instructions
Melt the butter over medium heat. Add the onion and garlic and cook until translucent, about 3 minutes. Add the flour, chili powder, cumin, and smoked paprika. Stir to coat the onions and garlic, and cook for about 1 minute.

Add the canned beans, corn, tomato sauce, diced tomatoes, and vegetable broth. Stir to combine. Add the macaroni noodles and bring the sauce to a boil. Cover and reduce heat to low. Cook for 13 to 15 minutes until the noodles are done.

Remove from heat and add in the cheese and stir until melted. Salt and pepper to taste.