Do you enjoy bread? Are you like me and absolutely LOVE bread coated with butter and dripping with honey? You could call me a bread enthusiast. If you watch my stream, you know I bake bread from scratch and occasionally I enjoy sharing slices with Chat.
I will now teach you how to make easy homemade wheat bread! I promise you, this task is incredibly simple and the outcome is entirely delicious. You won't purchase bread from a store again! This is a family recipe, passed down for generations, so I know it's good! It may seem daunting to bake your own bread—kneading the dough, letting it rise, helping the yeast bloom. But the beauty is that these traditional tasks are made straightforward and less tedious, even by a first-time baker!
Go to your kitchen right now and read the ingredients on your store bread. You'll be horrified! Most likely the list is riddled with chemicals and other preservatives, and once they invade your body, they lurk around wreaking havoc. No thanks! Compare these to the ingredients in my bread: Yeast, water, honey, vegetable oil, salt, and flour. Much healthier, right? I love knowing exactly what I'm eating. Who wants to worry about the deleterious effects of toxic chemicals running rampant through your body!
The most demanding step in this recipe is kneading the dough. If you have an electronic mixer with a dough hook, then don't bother with this—the machine does the kneading! In the instructions, I mention the word "bloom" in regards to yeast, but don't panic. I will show you what this means!
This measuring cup featured above on the left is right after I added yeast to warm honey water and mixed it around. See the floating yeast granules? We allow them to do their blooming work for about 10 minutes and we come back to the image featured above on the right.
No yeast granules remain. The mixture is frothy and foamy above the water line—so the yeast bloomed! If it doesn't look like this after 10-15 minutes, either your water was too cold, not activating the yeast, or the water was too warm and it killed the yeast entirely! Don't worry, after years of baking and using yeast, I've never had this happen!
Another wonderful feature of this recipe is you can use a variety of baking flours. In this recipe I use whole wheat flour. Wheat is generally denser so it produces heavier bread. Bread flour produces a fluffier, lighter consistency. You can also use all-purpose flour.
Let's get baking!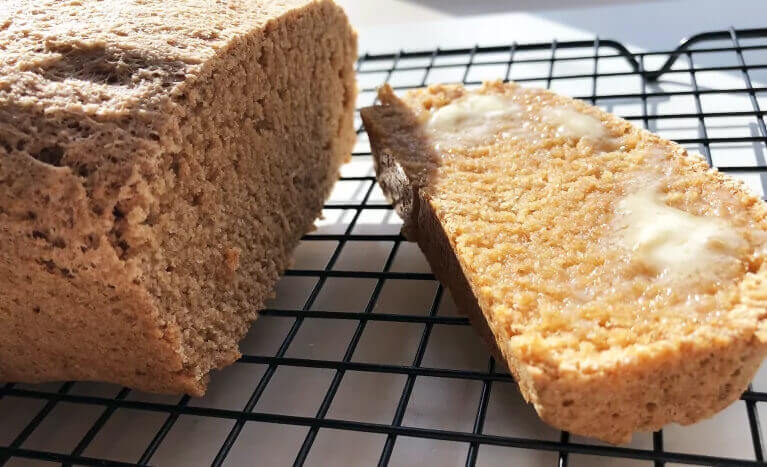 Simple Whole Wheat Bread
This is a family recipe, passed down for generations, so I know it's good!
Ingredients
1

cup

warm water

2

tbsp

honey or maple syrup

2 3/4

tsp

yeast (1 packet + 1/2 teaspoon)

1/4

cup

vegetable oil

3

cups

all-purpose flour, bread flour, or wheat flour

1 1/2

tsp

salt
Instructions
Heat the cup of water in the microwave for about 20-30 seconds, until the water is warm but not scolding where it hurts to touch it – similar to warm bath water. Stir in the honey. Add the yeast and give it a little stir. Let mixture sit for about 10 minutes, allowing the yeast to bloom.

Pour this mixture into a stand mixer and add in the vegetable oil, flour (one cup at a time), and salt, using your dough hook. Alternatively, you can hand mix the ingredients and then knead the dough by hand.

Mix a few minutes on low speed. The dough will ball together on the hook and will no longer stick to the side of the bowl. If the dough is crumbly, dry and not sticking together after minutes of mixing, add in water 1 teaspoon at a time. Continue kneading for 3-4 minutes after the non-sticky dough ball has formed.

Remove dough from hook, roll into a ball and place in a lightly greased bowl. Cover the bowl with a kitchen towel and place in a warm, draft-free area. Allow the dough to rise for 1.5 hours or until the dough has doubled in size.

Once doubled, punch the dough down. Shape into an oval and place in a greased loaf pan, seam side down.

Allow the dough to rise again for one hour (or until doubled) in a warm, draft-free area.

Preheat the oven to 350 and bake for 25-30 minutes.