It's pickling season! And, my chickens are laying eggs like no other, so that means pickled eggs all day! If you are new to pickled eggs, welcome. Pickled eggs are a treasure, and so stinkin' delicious. I love pickled eggs because pickling is an easy way to store and preserve eggs. Let me show you how to make easy pickled eggs! You can watch me make this recipe here.

Eggs come in an abundance during the spring when the seasons are shifting, the grass is green, and the sun is beginning to rule the sky. Once spring and summer fade into fall and winter, egg production begins to dwindle. Our ancestors devised different methods to preserve eggs to last them through the winter, and I think pickling is one of the tastier methods!
Get My 3 Favorite Pickled Egg Recipes FREE!
What are pickled eggs?
Pickled eggs are hard boiled eggs that have soaked in a vinegar brine for a few weeks to absorb the flavor. The brine is flavored with different seasonings and spices and can be curated to the flavor pallet of the consumer.
How do you pickle eggs?
You create a pickling brine by combining vinegar, water, salt, sugar, and spices. Pour the brine over the hard-boiled eggs in a jar and allow them to soak in the brine for a few weeks. Remember: the longer you allow the eggs to soak in the brine, the tastier they will be! I usually let my pickled eggs soak for 3-4 weeks. To be honest, I tasted an egg after a week with this recipe, and I could have eaten the whole jar.

Pickling eggs are easy to make, and it takes no time at all! The hardest part is waiting to eat the eggs. The most difficult part for me is waiting to peel the eggs after they're done boiling. I don't have an ice machine, so I can't do an ice plunge with the eggs, and I have to wait for forever to be able to peal them without making a mess.
How do you hard-boil eggs?
The easiest way to boil eggs to cover eggs in water in a pot. Boil for 2 minutes, then remove from heat, and allow the eggs to sit in the water for 8 minutes with the lid on the pot. This will give you perfect hard-boiled eggs!

This specific recipe is a tangy, spicy, dill pickled egg. I combined a variety of spices like cloves, peppercorns, mustard seed, and dill to arrive at a mild spice with a tangy dill flavoring. I love the flavor of dill, so I added quite a bit to my jar. You can adjust the amounts for what you think will taste good. The beaty of pickled eggs is that they are hard to ruin!

Pickling is one method of food preservation and you try my other pickling recipes like pickled asparagus and pickled radishes!

Let's get pickling!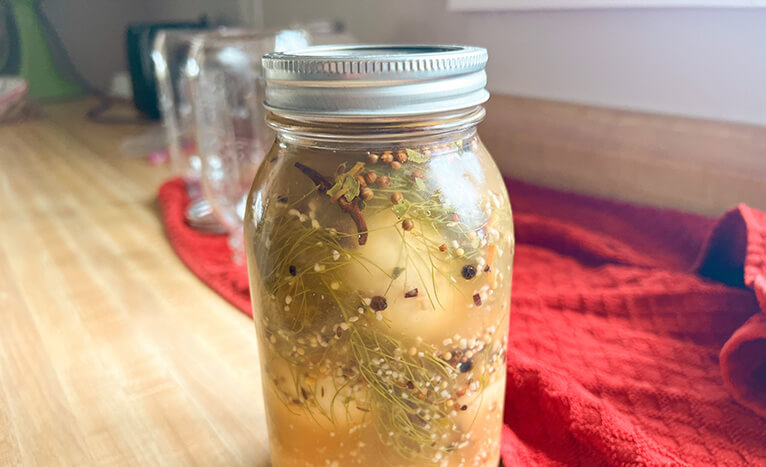 Tangy Dill Pickled Eggs
These new Tangy dill pickled eggs aren't just delicious they are a great way to preserve eggs.
Ingredients
1

dozen (12) eggs

2

tbsp

Sugar

2

tbsp

Salt

5

tbsp

minced garlic

1/2

fresh squeezed lime juice

2-3

cups

white vinegar

2

tbsp

spicy pickling mix (cloves, peppercorns, mustard seed)

5

sprigs fresh dill

1

tbsp

crushed red pepper flakes

optional
Instructions
Cover the eggs in water in a pot and bring to a rolling boil. Boil for 2 minutes. Remove from heat, cover, and allow the eggs to sit for 8 minutes.

While the eggs sit, combine the sugar, salt, garlic, lime juice, and vinegar.

After 8 minutes, drain and peel the eggs. Poke the eggs a few times with a fork—this allows an entry point for the brine to enter the egg.

Layer the eggs in a quart jar by placing a sprig and some spicy pickling spice in the jar, then eggs, then dill and spicy mix, and continue until the jar is full.

Pour the brine over the eggs to cover. Invert the jar a few times. Allow the eggs to soak up the brine for a few weeks (shaking occasionally,) then enjoy!
Video