Rumor has it that Napoleon Bonaparte, after coming to power, realized the recent revolution was largely due to a lack of bread. Apparently, speculation in the commodity markets, including grain and wheat, led to a quick rise in the price of flour: bread was so expensive that only the rich could afford to eat. Stomachs across France rumbled, louder and louder, until a huge roaring could be heard across the land. The people were hungry, thus the uprising. To avoid future calamities, Napoleon decreed that all bread would meet new government standards, called "Bread of Equality," and no one would starve.
So goes the rumor.
Many foods, including French Bread, bear a name that provides a clue to the origins of the food, but in the history of cooking there are really very few certainties. So many dishes have been passed around the world and shared across multiple cultures, and there is little or no accurate record of origins. French bread is linked to the French by the story above, but bread itself has a much wider, richer pedigree. The only problem is no one knows it; bread history is a mystery. All we really know for sure now is it tastes great!
Pass the bread please!
We do know that bread played a significant role in the development of human civilization. According to Wikipedia, it was a central component into the formation of early civilizations and came hand in hand with the cultivation of wheat, and with agriculture itself. People no longer had to run around searching for food, digging up roots and finding fruit. They could plant seeds and add water. A few centuries later, head to a fast food drive-thru, and we can harvest the hamburger bun, a bread staple of most inner city humans.
If we believe the rumor about Napoleon, then the old saying is true: "Any country is just 3 meals from a revolution." And that's exactly why I'm revealing this hand-me-down family recipe for French Bread. There will be no UPRISINGS in my kitchen…
Except for the bread dough!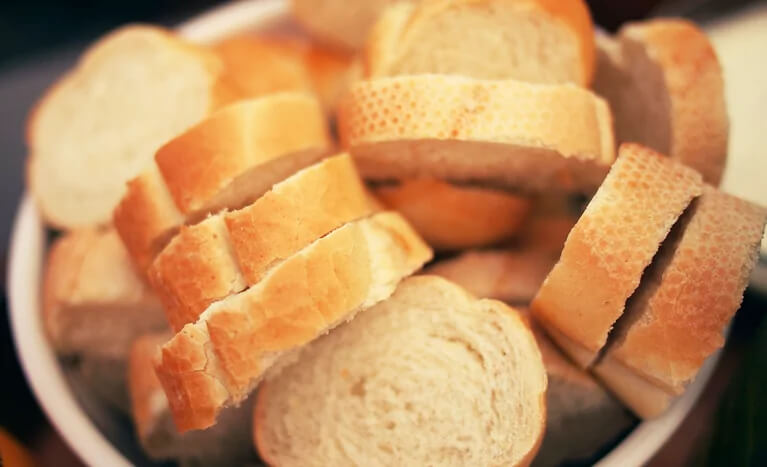 Homemade French Bread
This hand-me-down family recipe for French Bread will make sure there will be no UPRISINGS in my kitchen…
Ingredients
2 1/4

cups

warm water

1

tbsp

yeast

2

tbsp

sugar

1

tbsp

salt

2

tbsp

oil

6

cups

flour

1

tsp

cornmeal

1

egg
Instructions
In a large bowl dissolve yeast and sugar in warm water (about 115 degrees). Let sit until foamy.

Add the salt, oil, and 3 cups of flour. Mix until smooth. Add remaining flour, 1/2 cup at a time until the dough pulls away from the bowl and doesn't stick to your finger when tapped lightly.

Let the dough rest for 10 minutes and then stir it down (I use my mixer for a few seconds). Repeat 4 more times, stirring the dough down between the rise intervals.

Line a baking sheet with parchment or silicone and sprinkle with cornmeal. Split dough in half and shape each half into a rectangle about 9 X 13 inches.

Starting at the long side, roll the dough into a long cylinder. Place seam side down on baking sheet and repeat with other dough rectangle. Make 3 to 4 cuts on the top of each loaf using a sharp knife. Cover lightly and let rise for 30 minutes.

Preheat oven to 375 degrees. In a small bowl, whisk the egg with a splash of water and brush this over the surface of both loaves.

Bake 30 minutes or until golden brown, and hollow sounding when tapped