Odd Food Combination: The Bacon, Lettuce, and Tomato Sandwich
You know the old saying: "The sum is greater than the parts."
It's often true and we can apply this mantra to many different food combinations. A peanut butter and jelly sandwich, for example – take away either of these ingredients, and it just doesn't taste the same. Avocadoes-on-toast is another match made in Heaven. Chips and salsa – can't have one without the other or you lose the delish factor. How about cereal and milk? Macaroni and cheese… such a pleasing pair… or cookies and milk, Santa's favorite snack? Bagels and cream cheese – a charming couple. Coffee and doughnuts… or the all-time favorite: mashed potatoes and gravy. Can't forget that delectable duo!
In essence, all recipes involve a combination of foods, and it's true with all recipes that the sum is greater than the parts. Combining multiple ingredients is the essence of a recipe. Flour itself tastes horrible, but mix in water, oil, sugar and salt, and you get bread, or cake.
But we are considering ODD FOOD COMBINATIONS that one would NOT EXPECT to produce great flavor when added together.
One of the classic odd combos is bacon lettuce and tomato. The flavor of these ingredients actually MULTIPLIES to produce a delectable, scrump-tilli-umptious combination: The BLT sandwich, the tasteful trio, famous all over the world.
When and where did the BLT originate? As with other popular meals, no one really knows for sure. We do know that the only sandwich in America that exceeds the BLT in popularity is the grilled cheese. An Internet search indicates that the BLT originated in the early 1900's after tomatoes and lettuce became readily available at grocery stores. Bread and bacon have been around for hundreds of years, mayonnaise several hundred, but easy access to all these ingredients occurred within the last hundred years.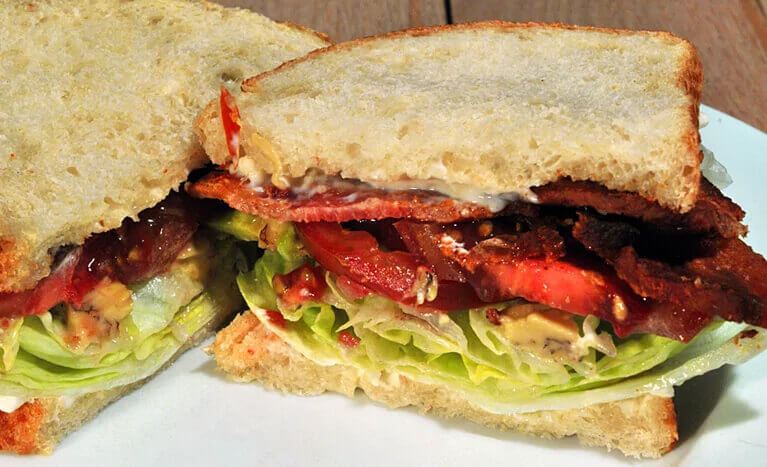 Ultimate BLT Sandwich
The BLT sandwich, the tasteful trio, famous all over the world.
Ingredients
8

slices of quality bread

1

pound

thick cut bacon

8

leaves of fresh iceberg lettuce

8

thin slices from a large tomato

1

avocado
Instructions
Cook bacon until it is crispy. Drain and dry on paper towels

Toast 2 slices of bread, spread a tablespoon of mayonnaise on each slice, cover with bacon, add 2 leaves of lettuce and 2 tomatoes, add as much avocado as you want. Add the top piece of toast, poke in 2 toothpicks and slice down the middle with a sharp knife.

Repeat for each of the other 3 sandwiches.