Do you enjoy the robust flavors of curry? What about chicken noodle soup? I enjoy both, but being vegetarian I don't consume chicken, so why not make a Vegan Curry Chickpea Noodle Soup? YUM! Swap out the meat in this soup for hearty chickpeas that absorb the flavor of the broth and seasonings—you won't even notice its vegan! Think of this soup as a vegan chicken noodle soup!
Traditional Chicken Noodle Soup is too brothy for me. I made this vegan soup creamy by adding full-fat coconut milk. You might be thinking two things: 1) "Gubba, you hate coconut," and 2: "Full-fat? But fat is bad!"
First of all, I enjoy coconut milk in soups and curries because I can't taste the coconut lol. The problem with coconut milk in a can is the fat is condensed on the top and the liquid on the bottom of the can, so if you push a spoon in, it might explode! It did for me; it splashed all over the stove haha. Be careful! Second, fat is good for you and your heart! Embrace all the full-fat items in your pantry or at the store. Check out my HLTH code blog to learn more about that.
This easy vegan soup is tasty and it leaves your house smelling like spice! Not only is it scrumptious, but this curry vegan soup a healthy alternative to chicken noodle soup! Canned soup can be loaded with sodium and other additives, but this homemade vegan noodle soup is clean and nutritious! You can also boost the healthiness by swapping the regular noodles for wheat, lentil, or garbanzo noodles! I used wheat noodles this time, and they didn't end up mushy, as they sometimes do with all the cooking.
Definitely don't opt for low-fat milk on this! The full-fat content makes this a creamy vegan soup! We want it creamy, people!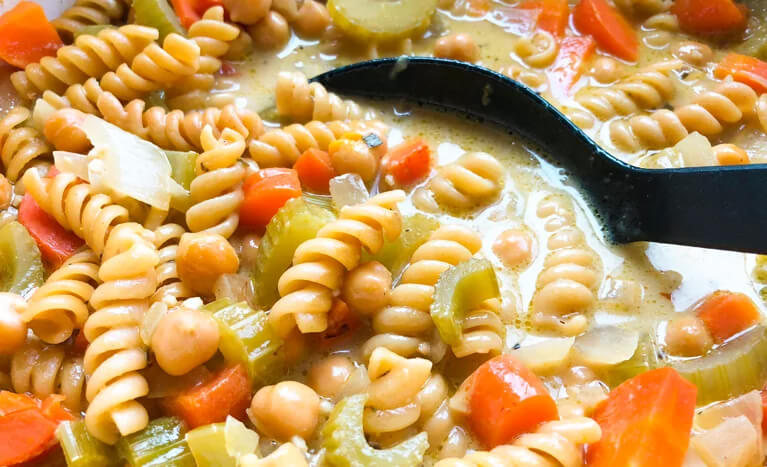 Vegan Curry Chickpea Noodle Soup
Do you enjoy the robust flavors of curry? What about chicken noodle soup?
Ingredients
3

tbsp

olive oil

2

medium carrots

5

celery stalks

1

yellow onion

6

cloves garlic

1 1/2

tsp

curry powder

1

tsp

ground ginger

1/2

tsp

turmeric

16

oz

full fat canned coconut milk

32

oz

vegetable broth

8

oz

rotini noodle of choice

salt and pepper
Instructions
Heat the olive oil over medium heat in a large soup pot or Dutch oven. Chop the carrots, celery, and onion. Think "bite size" for your soup while you are chopping. Once the oil is warm, pour in the vegetables and allow to cook until tender, about 8-10 minutes. Throw in generous pinches of salt and pepper.

Once the vegetables are tender, add in the garlic, curry powder, ground ginger, and turmeric. Stir together and cook for about 1-2 minutes.

Stir in the coconut milk, vegetable broth, and rotini noodles.

Bring to a simmer over medium-high heat. Once simmering, place on low, cover the pot, and cook for 8-10 minutes until the noodles are cooked through.

Taste and adjust with spices to your preference. Enjoy!