No bake cookies are an essential cookie staple.
They are the first cookies I baked in eighth grade cooking class, and I still bake them today! No bake cookies are so easy and simple that they are hard to mess up. I usually create no bake cookies around the holidays, but my mom sent me her recipe so I decided to veganize it! I successfully transformed my mom's No Bake Cookie recipe into an easy Vegan No Bake Cookie recipe.
By swapping out non-vegan friendly ingredients, like dairy butter for vegan butter, I seamlessly created the perfect Vegan No Bake Cookie! I substituted sugar for maple syrup and I used dairy-free chocolate chips. Tthese vegan cookies weren't quite as sweet as my mom's, and they had a more pronounced chocolate taste due to the dark chocolate! For a sweeter cookie, you can use milk chocolate in place of the dark chocolate. I prefer the taste of naturally sweet cookies, so I used unsweetened cocoa and dark chocolate. The flavor of natural sweetened treats is refreshing compared to sugar-laden goodies. These simple vegan peanut butter no bake cookies are delicious!
I'm a peanut butter maniac so I used two more tablespoons of peanut butter than my mom's recipe calls for. Peanut butter is vegan friendly, so why not load up on the good stuff? I don't like the overwhelming taste of sugary cookies, but I wanted these peanut butter no bake vegan delights to be sweet yet not overbearing. The sprinkled peanuts on the top of the cookies help balance out the sweetness with salt and add a depth of flavor to the dark chocolate.
How to make vegan no bake cookies is the same as making regular no bake cookies. You heat ingredients over the stove in a sauce pan; then add in the other ingredients. There are no complicated steps or any odd ingredients.
I love it that no bake cookies have the texture of fudge with oats strewn throughout, and these vegan cookies are just as fudgy as regular no bake cookies—the texture is the same! To set up this fudgy treat, allow the cookies to cool 30-45 minutes in the fridge. I know it's difficult waiting to eat one, but it's completely worth it!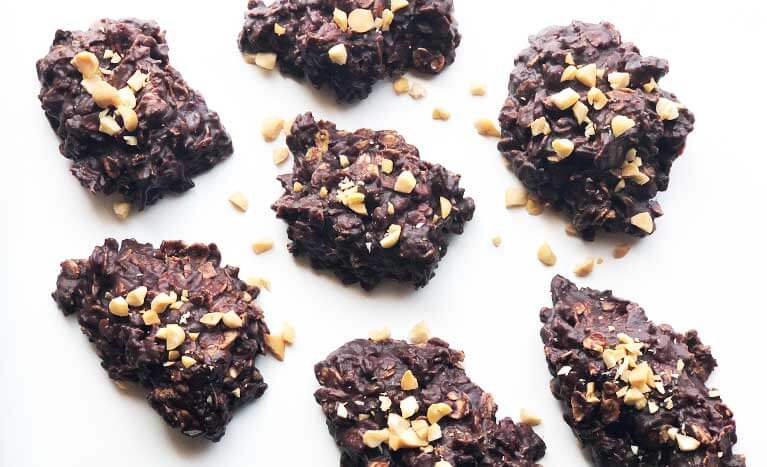 Vegan Peanut Butter No Bake Cookies
No bake cookies are an essential cookie staple.
Ingredients
1/4

cup

maple syrup

3

tsp

vegan butter

3

tsp

cocoa powder

1 1/2

cups

old-fashioned oats

1/3

cup

peanut butter

1

tsp

vanilla extract

1/4

tsp

sea salt

1/2

cup

vegan dark chocolate morsels

1/4

cup

chopped peanuts (for sprinkling)
Instructions
Line a baking sheet with parchment paper and set aside.

Add the oats, peanut butter, vanilla, sea salt, and morsels to a bowl and set aside.

Combine the maple syrup, vegan butter, and cocoa powder in a sauce pan and bring to a boil over medium-low heat while stirring constantly.

Once lightly boiling, continue to boil for a minute, remove from the heat and stir in the ingredients in the set aside bowl.

Using 1/4th cup, scoop the batter onto the prepared baking sheet into desired cookie shapes. Sprinkle with chopped peanuts and place in the fridge for 30-45 minutes.