Craving something fresh and light for a summer dinner or a quick recipe for Taco Tuesday?
Let me share one of my favorite vegetarian taco recipes! I regularly make sweet potato and black bean vegetarian tacos because they're tasty and simple to make! This meal is all vegetarian, so if you need tacos with meat, grill up some farm fresh chicken to add to this recipe. This tasty vegetarian taco recipe is perfect for a summer night or a fun family get-together. The prep is simple and the finished taste will have you craving more.
My inspiration for this Mexican-themed vegetarian recipe stemmed from my college days. Back then I ate meals of whatever I could toss together. When I grew weary of toss-together casseroles and vegetarian chili, I discovered that tacos were incredibly easy to make. I threw together vegetables and spices, poured them onto a tortilla, and ate like a college queen! This recipe is a budget-bite, meaning it's inexpensive and prepared with basic ingredients! Just because it's basic doesn't mean it's not delicious, though.
Have you ever heard of Thirsty Thursday?
Well, we also have "Meatless Monday." If you are planning for Meatless Monday, include this recipe! The ingredients are whole and simple: sweet potatoes, black beans, corn, onion, garlic, olive oil, lime juice, honey, cilantro, paprika, cumin, cayenne pepper, salt, pepper, tortillas. I love basic ingredients in recipes because no mysterious chemicals are lurking and ready to bombard my body after I take a bite. Too many processed foods line the shelves of grocery stores. What else comes with that convenience?
You can kick it up a notch and buy actual corn stocks and shred the corn from the cob. I recently used fresh corn in this recipe and noticed a significant taste difference from using canned corn. Fresh corn brings a lighter, fresher taste to the dish. I prefer fresh corn, but I also understand corn isn't always in season. I was able to utilize the corn silk by making corn silk tea, which is high in vitamin K and packed with other health benefits. Food is medicine.
This recipe offers an easy whole food idea that kick-starts your body and mind to their full potential! The next time you consume a chemically-made convenience treat for $1, pay attention to how you feel and compare it to eating a whole food like a mango or roasted carrots. Personally, my mind and body seem cleaner and clearer when I eat clean (no chemicals). This easy vegetarian taco recipe will leave you feeling good.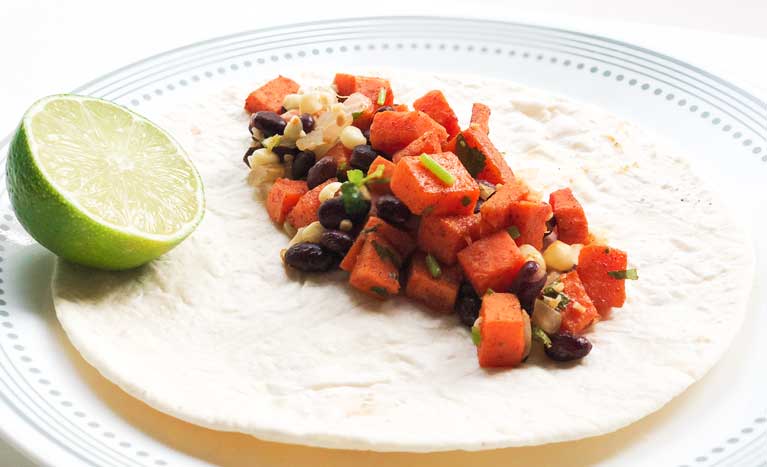 Vegetarian Tacos Sweet Potato and Black Beans
Let me share one of my favorite vegetarian taco recipes! I regularly make sweet potato and black bean vegetarian tacos because they're tasty and simple to make!
Ingredients
3

medium sweet potatoes - diced

4

tbsp

olive oil - divided

1

tsp

cumin

1

tsp

paprika

1/4

tsp

cayenne pepper - optional for heat

1/2

white onion

2

cloves garlic

1

can

black beans

1

can

corn (or 1 fresh husk of corn)

3

limes

2

tbsp

honey

3

tbsp

fresh cilantro - chopped

salt and pepper

tortillas

guacamole, salsa, Pico de Gallo, lime juice, hot sauce, sour cream

Optional toppings
Instructions
Preheat oven to 425F. Dice the sweet potatoes and arrange on a cookie sheet. Drizzle olive oil over the potatoes and stir until evenly coated. Sprinkle on the cumin, paprika, and cayenne pepper. Stir until evenly coated and place in the oven for 20-25 minutes. Once a fork can insert into a diced potato slice with no resistance and come out easily, the potatoes are done.

Warm 1 tablespoon of olive oil in a pan and add in the onion and cook until mostly translucent. Add in the garlic and cook for 1 minute. Add in the drained black beans, corn, lime juice from 3 limes, and honey. Cook together for 3-5 minutes until evenly cooked. Add salt and pepper to taste. Remove from heat.

Once the potatoes are finished, add them into the pan along with the chopped cilantro and stir together.

Serve on tortillas with extra toppings or your choice and enjoy!