If you are reading this, it is definitely a sign for you to pickle something. In this blog, I will teach you how to pickle asparagus. You can pickle eggs, radishes, and so many other kinds of vegetables! I promise that even if you don't like vegetables, pickling makes them way tastier. You can watch me make this recipe here. I adjust my measurements during pickling to my taste, so feel free to do the same!

I fell in love with pickling when I first tasted pickled eggs. I wondered what the heck could make eggs taste this delicious? I enjoy hard-boiled eggs, but I never knew that allowing them to sit in a brine for weeks to soak up flavor would be an absolute game changer in how I eat my eggs or prepare my vegetables in general.
How do you pickle vegetables?
The easiest way to pickle vegetables is to choose what vegetable you want to pickle. Because I have been getting a weekly farm share, I have been pickling vegetables that are in that. One week was radishes and the next was asparagus. This week I got beets, so you best believe I will be pickling beets. Once you have your vegetable picked out, make a brine, cover the vegetables with the brine in a jar, and you're done
How do you make a pickling brine?
To make a pickling brine, all you need is vinegar, water, salt, and sugar. These ingredients can be adjusted according to taste. I absolutely love having a salty vinegar brine, so I weigh heavy on those two ingredients. I don't care for a sweet brine, so I don't add much sugar. Just enough to add a tang. You mix your preferred ratio of ingredients in a pot on the stovetop and pour the hot brine over the vegetables.

Making pickled asparagus is SO EASY! You don't even have to cook the asparagus beforehand. I like recipes that are easy and not time consuming, and this easy pickled asparagus recipe is just that! Some recipes suggest lightly cooking the asparagus beforehand, but that is not necessary. I had my pickled asparagus this morning with my breakfast, and it was the perfect texture.

Like my pickled radishes, you can eat the pickled asparagus a few days after you made them. I would suggest waiting, though. A minimum of a week to enjoy the pickled asparagus. With pickled items, the longer you wait, the better they are.

Let's get pickling!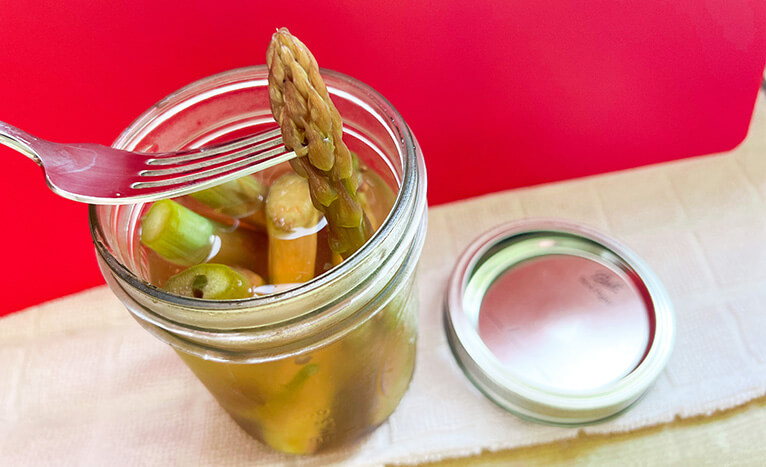 Pickled Asparagus
Making pickled asparagus is SO EASY! You don't even have to cook the asparagus beforehand.
Ingredients
1

bunch

asparagus

2

cups

vinegar

1/2

cup

water

1

tbsp

salt

1

tsp

sugar, optional

2

tsp

pickling spice (a mix of mustard seed, cloves, peppercorns, coriander seed, dill seed, dill seed, red pepper flakes)

2

tsp

chopped garlic, optional
Instructions
Chop the asparagus into about thirds to fit into pint jars. Before putting in the asparagus, put 1 teaspoon of pickling spice and 1 teaspoon of chopped garlic in each of the pint jars. Fill the pint jars with the chopped asparagus.

Combine the vinegar, water, salt, and sugar (optional) in a pot on your stovetop. Heat until the salt and sugar are dissolved.

Cover the asparagus with the hot brine and put the lid on the jar.

Allow to cool and then place in the fridge.

Enjoy after 1 week, but the longer you let them sit the better they taste!
Video