I didn't know comfort food until I made honey butter corn for the first time. This delicious comfort dish is loaded with sweet corn that has been cooked together with honey and butter—YUM! Seriously, I love butter so much that I always add more than what the recipe calls for. Now that I have my own milk cow, I have a direct source for butter and you best believe I used her butter in this recipe! You can watch me make homemade butter.
How do you make honey butter corn?
Honey butter corn may sound odd, but corn is naturally sweet so it pairs together perfectly with honey and butter. I feel like this is a classic carnival food recreated.
You know when you go to the fair or carnival and fun food vendors are offering a variety of dishes and you get to experience something new?
This creamed honey butter corn is that dish! But you don't have to go to a carnival or fair to get it. You can safely make it at home and avoid the crowds.
What ingredients are in honey butter corn?
This is an easy side dish recipe, and you probably already have the ingredients on hand! The ingredient list is short and simple: frozen corn, honey, butter, cream cheese, salt, and pepper! Creamy, tasty, and sweet!
This is the perfect barbeque side dish, summer side dish, or, if you're like me, the perfect easy dinner! I seriously ate this, and only this, for dinner the night I made it. I paired it with chips and got the perfect sweet and salt crunch.
What is an easy side dish recipe?
I love that honey butter corn only requires one pan to make—a true one pan side dish! I dislike piling up dishes and having a huge mess to clean up after dinner. I want to eat and then relax, not do dishes all night.
Not only is this creamed corn easy to make, but I love that the ingredient list is so short. Recipes where you have to run to the store and scan the aisles just aren't worth it!
Ingredients you need for honey butter corn:
Butter: I use butter I made from my cow. You can use any butter you would like! I would recommend salted butter, but if you don't have salted butter, you will most likely add some salt later in the recipe when you do a taste test.

Honey: I use raw honey I purchased from Azure Standard.

Frozen corn: I prefer using frozen corn in this recipe, but you can use canned corn in a pinch. I feel like the texture turns out creamier with frozen corn. You can use any variety of corn that you like!

Cream cheese: This is the key to this creamy corn dish! Lob a whole block into the pan and you are golden. I had cream cheese sitting in the fridge begging to be used, and this was the perfect cream cheese recipe to use it in!

Salt and pepper: What is a dish without the classic spices salt and pepper? You can adjust this dish to your taste at the end.

Let's get cookin!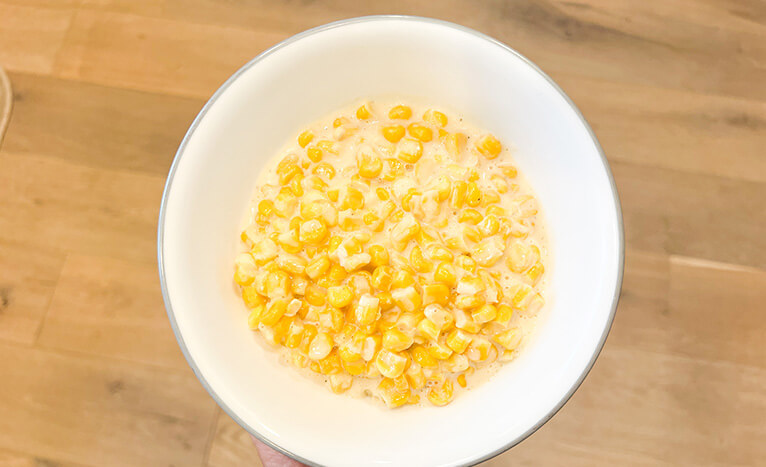 Honey Butter Creamed Corn
This delicious comfort dish is loaded with sweet corn that has been cooked together with honey and butter—YUM!
Ingredients
1/2

1

stick butter

2

tbsp

honey

1

32 oz

bag frozen corn

8

oz

(1 block) cream cheese

1/2

tsp

salt

1/2

tsp

pepper
Instructions
Melt the butter and honey together in a pan over medium heat. Once melted, add in the frozen corn and cook for 5-6 minutes until cooked thoroughly.

Add in the cream cheese, salt, and pepper. Stir together and allow the cream cheese to melt. Cook for 3-5 minutes.

Adjust taste with salt and pepper.