I recently moved to a farmhouse, so I am now cooking on a gas stove for the first time ever. I'm used to electric stoves, so getting used to a gas stove is taking time—the gas stove cooks much hotter than my electric stove! I learned this the hard way.
I was cooking rice for my meal prep freezer black bean burritos, but this time I cooked it on the gas stove. My rice always came out perfect on my electric stove, but this it was crispy and overly browned—actually a bit burnt. The gas stove, being hotter, evaporated the water too soon and crisped up my rice, lol. I was running around, elbows up, thinking of ways to mend this issue, but then I remembered:
"I know how to make rice in an Instant Pot"
I rolled my eyes and couldn't believe that I forgot how easy and effortless it is! At that moment, I decided to never cook rice on the stovetop again. Instant Pot Brown Rice takes about 40 minutes and comes out perfect, every time. I use it in many recipes, and it came out fluffy and cooked thoroughly. Yay!
How do I make brown rice in an instant pot?
Add 2 cups of rice and 2 1/4 cups of water to an Instant Pot. Place the lid on, set to Seal, click "Manual" and time for 22 minutes. Once the time is up, allow the steam to naturally release for 10 minutes, and then set to Vent; this releases the excess steam. Open the lid and admire the perfect and beautiful rice you made!
The Instant Pot makes cooking rice simple. I free up a burner on the stove, saving that space for other things, like my Sourdough English Muffins or my Easy Black Bean Burritos. YUM!
What's the easiest way to make brown rice?
In an Instant Pot! Follow the steps in this easy recipe or watch my vlog to see how easy the process is. Never deal with burnt rice again!
Let's get cooking!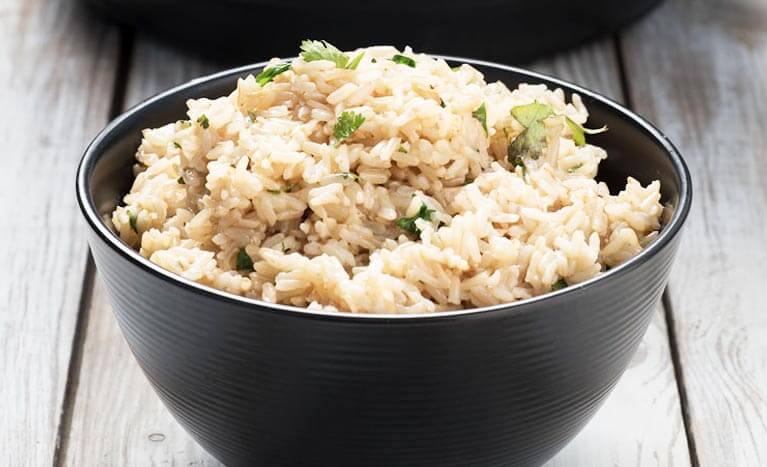 Instant Pot Brown Rice
Cooking your rice this way makes perfect soft fluffy rice
Ingredients
2

cups

brown rice

2 1/4

cup

water
Instructions
Add the rice and water to the Instant Pot. Close the lid and set to Seal. Press the Manual button and set to 22 minutes. Once the rice has cooked for 22 minutes, allow the pressure to naturally release for 10 minutes then Vent to allow the excess pressure to escape.