I love stir frys—especially easy stir frys!
I find myself throwing this recipe together at least once a week due to the ease of it. This vegan stir fry can be easily changed to a chicken or steak stir fry by adding either. Because I'm vegetarian, I omit meat in my recipes but I know meat would be a tasty addition to this healthy stir fry!

The ingredients for the homemade stir fry sauce are most likely sitting in your pantry—no special trips to the store needed! Vegetable stock, soy sauce, molasses, sriracha, and cornstarch are all you need to craft up this tasty stir fry sauce. Optional add-ins: sesame oil, hoisin sauce, and rice vinegar. To make this ramen stir fry recipe even easier, use a stir fry frozen vegetable mix instead of fresh produce. With my recent shift toward a homegrown lifestyle, I can use vegetables from my garden, like sugar peas, green beans, peppers, and broccoli.
Ramen noodles are popular, cost-effective, and tasty. Pick any ramen noodles from the grocery store. I prefer these brown rice noodles. Due to last year's pandemic madness, I now keep an extra supply of these noodles in my pantry for easy access in recipes. This tasty stir fry dinner recipe is simple to make and can be ready to eat in under 30 minutes. It is also pandemic-friendly as this meal can be made from pantry ingredients and frozen vegetables. No need to rush to the grocery store and fight through the aisles to grab the last items on the shelf.
Quick tip: While the water is boiling, wash and chop your vegetables, so you can toss them into the Dutch oven without a messy experience. As mentioned, you can prepare meat separately and add into the stir fry at the end.
I am completely infatuated with cast iron cooking because of its versatility. One night I'm baking a cast iron pizza; the next morning I'm making easy cast iron cinnamon rolls! Making cinnamon rolls is an overnight process, like making English muffins.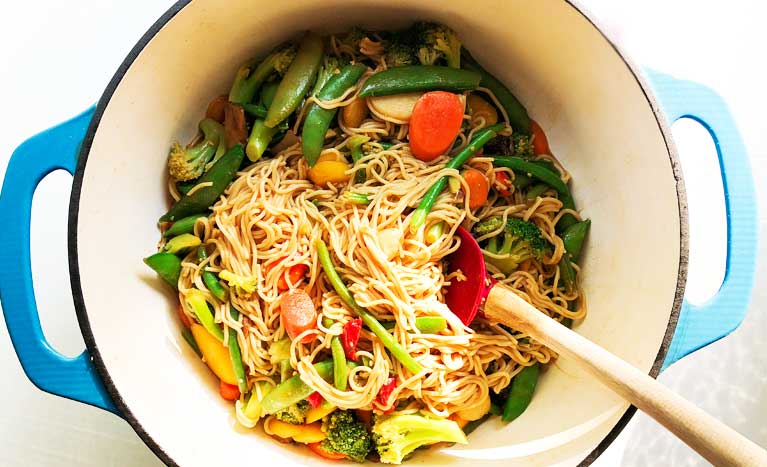 Vegetarian Garden Stir Fry
This vegan stir fry can be easily changed to a chicken or steak stir fry by adding either.
Ingredients
6

blocks

of ramen

3

tbsp

safflower or avocado oil

1 1/2

tbsp

ginger, finely chopped

4

cloves garlic, chopped

4

green onions, chopped and white and green parts separated

3

carrots, chopped

1

small head of broccoli, cut into florets

1

red pepper, chopped

1

yellow squash, chopped

1

cup

green beans

1

cup

snap peas

1

cup

chopped peanuts, optional
Stir fry sauce:
1/2

cup

vegetable stock

5

tbsp

soy sauce

2

tbsp

molasses

1

tbsp

sriracha (omit if you don't like spice)

2

tsp

cornstarch

1/4

tsp

sesame oil, optional

1

tsp

hoisin sauce, optional
Instructions
Bring one pot of water to a boil for the ramen noodles. Follow the instructions on the ramen package for preparing the noodles. While the water comes to a boil, wash and prepare the vegetables and mix together the sauce ingredients. Set aside.

When the noodles are finished cooking, drain and rinse with cold water to stop cooking. Set aside.

Heat the oil in a wok or Dutch oven. Once the oil is warm, add in the garlic, ginger, and white and light green parts of the green onions. Fry and stir frequently for 15-20 seconds until soft. Don't allow browning.

Add the carrots and broccoli and cook until beginning to soften. Add in the pepper and squash and continue to cook until tender.

Add the noodles to the pan and pour in the sauce. Allow the sauce to simmer while stirring until the sauce thickens. Stir to coat the noodles and vegetables with the sauce—this may take a few minutes while the sauce reduces and absorbs into the noodles. Remove from heat and top with the green parts of the green onions and the chopped peanuts (optional.)