I feel like you can't go wrong with having dinner rolls as an easy dinner side dish. With this one-hour dinner roll recipe, you will see making dinner rolls from scratch is easy and the result is delicious!

I used to buy premade dinner rolls from the store until I realized how incredibly easy they are to make from home. This saves you time and money because you don't have to buy pre-made, pre-packaged foods by running to the store. I love homemade baked goods because every food that is homemade is power restored to you. Our great-parents didn't have the luxury of a convenience store and they created everything by hand. That knowledge has been lost. Doing something as simple as baking from scratch regains that knowledge and power!
How do you make dinner rolls?
Homemade dinner rolls are incredibly easy to make. They don't take much time at all, and with this recipe you don't have a long rise waiting period like some recipes have.

Simply, you combine the ingredients, let the dough rest and rise for 15 minutes, shape into rolls, let them rest and rise again for 15 minutes, then bake until golden brown! Truly, this is a one hour dinner roll recipe.
How long do dinner rolls take to make?
Depending the recipes and ingredients used, they can be made within an hour or take over 24 hours. Specifically, if you are using a sourdough starter like this sourdough dinner roll recipe, the time to make the rolls will be longer because the dough has to ferment. If you are using store-bought yeast, the dough doesn't ferment and rises quickly.
Are homemade dinner rolls healthy?
They are absolutely a better alternative to store-bought dinner rolls. Have you read the ingredients on the back of store bought dinner rolls? The ingredient list is long and often full of words that can't be pronounced. I don't know about you, but I don't want to eat food I can't pronounce.
What are the ingredients for homemade dinner rolls?
Water, yeast, butter, milk, honey, flour, and salt. That's it! These are whole ingredients and every name can be pronounced.

I love having no-fuss homemade dinner rolls because they are easy to make and delicious to eat!

Let's get baking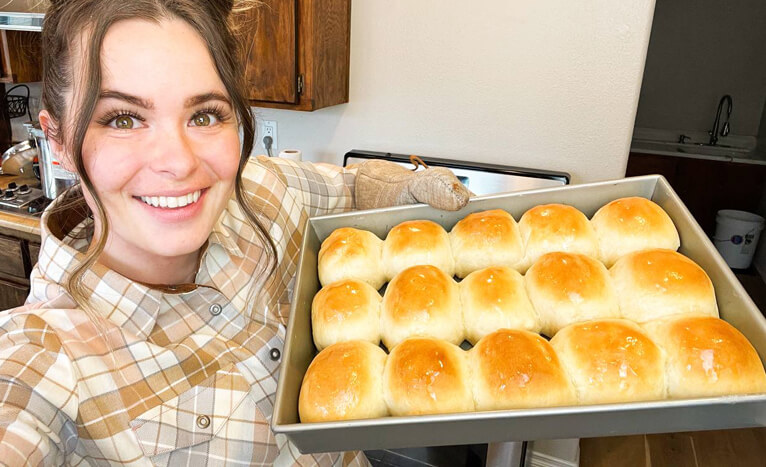 1 Hour Dinner Rolls
With this one-hour dinner roll recipe, you will see making dinner rolls from scratch is easy and the result is delicious!
Ingredients
1

cup

water

2

tbsp

butter, melted

1/2

cup

milk (or water)

3

tbsp

honey

1

tbsp

active dry yeast

3 1/2

cups flour

or 4 cups flour

1

tsp

salt

1

extra butter for tops of rolls after baking
Instructions
grease a 9x13 baking dish with butter. Set aside.

mix together the water, melted butter, milk, and honey. You can use water instead of milk if you don't drink milk. Warm the mixture for 30 seconds to 1 minute until the mixture is warm but not scalding. Add in the yeast, mix, and allow to bloom for about 5 minutes.

Add the liquid mixture to a mixing bowl with a knead attachment and begin to mix in 3 1/2 cups of flour and the salt on low speed. If the dough is sticking to the sides of the bowl, add in the additional 1/2 cup of flour. If the dough is too dry, add in water 1 teaspoon at a time until it is smooth. Form the dough into a ball, cover the bowl and allow to rise/rest for 15 minutes.

After 15 minutes, shape the dough into rolls in the prepared greased pan. Allow to rise for 15 minutes. Preheat the oven to 400F

Bake the rolls for 15 minutes until the tops are golden brown. Remove from the oven and brush with butter.