Do you buy barbeque sauce from the store? Don't. I have the best homemade barbeque sauce recipe for you—it is easy to make and it is delicious! If you haven't tried from scratch barbeque sauce, today is the day. This Tangy Tennessee BBQ Sauce has replaced any need of mine to ever get BBQ sauce from the store.

This summer I began experimenting with making homemade BBQ sauce. I was tired of either having old BBQ sauce worn from sitting in the fridge for an interminable amount of time taking up space or not having it when I needed it. Making easy homemade BBQ sauce seemed to be a no brainer. There are a plethora of different kinds of BBQ sauces—this recipe is definitely a tangy barbeque sauce. Everyone that has tried a recipe of mine that included this sauce has loved it.

I love that BBQ sauce can be used in so many different recipes. I used it for my Pulled Pork Sliders, to top barbequed chicken with, and for a base in a taco BBQ soup. A variety of dishes can be complemented with BBQ sauce, and I enjoy being able to make it from the comfort of my own kitchen—no preservatives necessary!

This Tangy Tennessee BBQ Sauce provides a swift kick due to the vinegar and pinch of cayenne in it. I would not say that it is spicy, but it will give you a zing, which my tastebuds love! The best part about this BBQ sauce recipe that most of the ingredients will already be in your refrigerator or pantry—no unnecessary running to the store. I tend to keep the basics always on hand—sugars, ketchup, mustard, vinegar, and a variety of condiments and spices. These basics are all you need!
How do you make barbeque sauce?
The base to most BBQ recipes is ketchup, and that is also the base in this recipe. Vinegar is generally a household basic and is added into the sauce to give a kick and zing. Yellow mustard provides a tartness that adds to the depth of flavor that the vinegar already pulls out of the ketchup.

The brown sugar in the recipe will give the sauce a sweet aftertaste—yum! It isn't overbearingly sweet, but has just the right amount of sweetness to complement the slight spice. The cayenne pepper provides the tiniest amount of spicy—you won't be sweating at the dinner table, but rather enjoying the sweet and spicy combination.

In my experience, store bought BBQ sauce often has a funky flavor or is too sweet for my palette. Being able to make homemade BBQ sauce has allowed me to take control of the sweetness and not have any funky ingredients added.
What ingredients do you need for BBQ sauce?
You will need: ketchup, mustard, Worcestershire sauce, brown sugar, vinegar, pepper, salt, cayenne pepper powder, onion powder, and garlic powder.
How long can you store barbeque sauce?
Because of the acidity in this sauce from the vinegar, you can store the sauce in the refrigerator in a jar for a few weeks. I usually use the entire batch for a recipe or to pair with a meat, but if I don't I use it up within a few days. You can also can this recipe for longer shelf life!

Let's get cookin!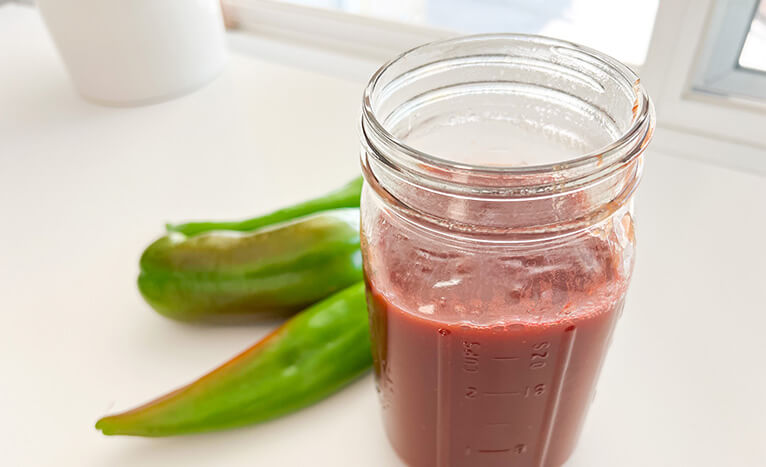 Tangy Tennessee BBQ Sauce
This Tangy Tennessee BBQ Sauce provides a swift kick due to the vinegar and pinch of cayenne in it. I would not say that it is spicy, but it will give you a zing, which my taste buds love!
Ingredients
1

cup

ketchup

1/2

cup

white vinegar

1/4

cup

brown sugar

2

tbsp

yellow mustard

3

tbsp

Worcestershire sauce

1

tbsp

onion powder

1/2

tbsp

garlic powder

1/2

tsp

black pepper

1/2

tsp

cayenne pepper

1/2

tsp

salt
Instructions
Combine all of the ingredients in a pot on the stovetop over medium heat. Bring to a simmer and reduce to low heat and allow to simmer for 10 minutes.

Enjoy right away or place in a jar for refrigerator storage!