Are you ready for the world's best soft chocolate chip cookie recipe?
Be sure to save this easy chocolate chip cookie recipe because you don't want to lose it! These are the best homemade chocolate chip cookies you will ever make—even better than Granny's!
Nothing is more disappointing than biting into a chocolate chip cookie to find it dry, crumbly, and overcooked. My ex-roommates loved to conjure up cookie disasters like that, but then I finally had enough of burnt, crispy cookies, and I decided to make a soft and chewy chocolate chip cookie recipe. I won't use any other recipe, nor do I care to purchase any chocolate chip cookies again because I know they cannot compete with these!
This is my famous chocolate chip cookie recipe for cookies I used to make on stream. The baking process is simple. All you need is flour, butter, white sugar, brown sugar, 1 egg, vanilla, baking soda, salt, and chocolate chips! If you feel adventurous, spice up the recipe with different types of chips, add more brown sugar for a chewier cookie, etc.
How do I get a soft, chewy cookie?
The secret is in the process! Do not overbeat your egg into the batter and don't melt your butter completely. If you overbeat the egg or completely melt the butter, the cookies will turn out stiff with a harder crunch. Halfway melt the butter and barely incorporate the egg into the batter, and voilà! You get a soft cookie!
Get the butter into the perfect liquid/solid composition by heating it in the microwave for 15 to 20 seconds. If you don't have a microwave, soften it in the oven while it preheats.
Use M&Ms or dairy-free chocolate chips instead of milk chocolate chips and the cookies will be soft and fluffy! I made these cookies on stream back in 2016 and I still remember one viewer saying:
"Those cookies don't look done and are still doughy."
Bake time is another secret to getting a soft cookie. After you remove the cookie from the oven, it continues to bake. Do not over-bake a cookie—you can still eat a doughy cookie (if you feel comfortable consuming raw egg.)
Let's get baking!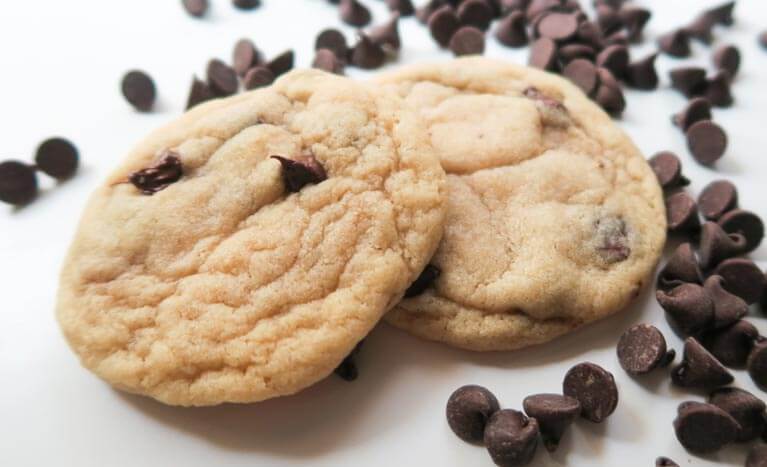 Worlds Softest Chocolate Chip Cookies
Be sure to save this easy chocolate chip cookie recipe because you don't want to lose it!
Ingredients
1/2

cup

(1 stick) butter, partially melted

1/2

cup

white sugar

1/4

cup

brown sugar

1

egg

1

tsp

vanilla

1 1/2

cup

flour

1/2

tsp

baking soda

1/4

tsp

salt

1/2 to 1

cup

chocolate chips
Instructions
Preheat oven to 350 and partially melt the stick of butter in the microwave for 15 to 20 seconds. Cream together the butter and sugars in a stand mixer or with a handheld mixer.

Add the egg and vanilla and mix until just incorporated

In a separate bowl, combine the flour, baking soda, and salt and then pour into the batter. Mix together until incorporated.

Mix in the chocolate chips. I prefer less chocolate chips in my cookies, so I use 1/2 cup. Use 1 cup if you prefer more chocolate.

Bake for 8 to 10 minutes, until fluffy and barely golden brown. Place on a cooling rack and allow to cool completely.