Do you ever crave bread? I do… all the time! Especially decadent bakery brewed bread fresh from the oven. I love visiting local bakeries early in the morning to grab a fresh loaf from the shelves. Lately, I've been learning how to make homemade bread. Not only is baking your own homemade bread a fun learning process; it's also easier on the budget than purchasing store-bought bread! Check out my easy wheat bread recipe.
My favorite bakery bread is Focaccia, and I have the most simple Focaccia recipe to share with you. This easy Focaccia bread recipe doesn't take hours on end or involve a complicated process, and that's exactly why I love it! I don't enjoy bread recipes with complex proofing processes. I also don't enjoy kneading dough because I don't like flour, so I have a KitchenAid do it for me, haha. I love this quick and easy Focaccia recipe because it's just that—quick and easy!
I love, love, love Focaccia, so I thought I would finally try to bake it. Focaccia is herbed bread, and thinner than the typical sandwich bread loaf. This is a fun bread recipe because you can customize it to your liking. I love the taste of rosemary, so I sprinkle extra rosemary all over the ready-to-be-baked dough. If you don't like rosemary then you can substitute in other herbs like basil or oregano.
This dinner-ready Focaccia bread recipe can also be used as a sandwich bread Focaccia recipe. When the bread is baked and fully cooled, you can slice it into your desired sandwich bread! It's delicious! I made a veggie sandwich with mine: mayo, onion, avocado, tomato, and salt and pepper! It was an incredible sandwich! I also cut the bread into Focaccia bread sticks to dip in my tomato soup.
Tip: I warm my oven to 175F then allow it to air out a bit before I place my dough in to rise. You don't want it at 175F when it goes in, but just slightly warm. The oven is also a draft-free area for dough to rise.
Let's get baking!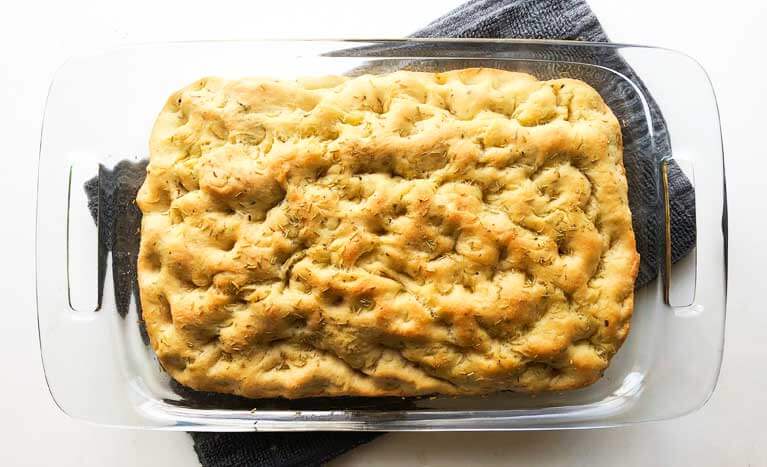 Homemade Focaccia Bread
This easy Focaccia bread recipe doesn't take hours on end or involve a complicated process, and that's exactly why I love it!
Ingredients
1

cup

warm water

1

tsp

sugar

1

packet active dry yeast (2 1/4 teaspoons)

1

tsp

salt

1 1/2

tsp

garlic powder

1

tsp

dried thyme

2

tsp

rosemary

1

tsp

dried basil

1

tbsp

vegetable oil

1

cup

olive oil

2.5

cups

flour
Instructions
Mix the sugar in the warm water; then add the yeast. Allow the yeast to proof for 10 minutes (bubbles will form).

In a large mixing bowl or KitchenAid with knead hook attachment, combine the flour, salt, garlic powder, thyme, rosemary, and basil. Add in the yeast mixture and vegetable oil. Stir to combine until the dough has formed a slightly sticky ball. If the dough is too flaky or not combining, add 1 teaspoon of water at a time while mixing until it forms a dough ball.

Remove the ball from the mixing bowl, lightly oil the bowl, and place the dough in the bowl. The oil prevents sticking as the dough rises.

Cover the bowl with a cloth and allow it to rise in a warm, draft free area for 25-30 minutes.

Once it's done rising, punch the dough down and flatten into a greased baking dish. I used a 9×13 glass baking dish. Use your fingers to make indents across the dough and cover the dough with the 1 cup olive oil spread over the top. It seems like a lot of oil, but it absorbs into the bread as it bakes. You can also sprinkle extra seasonings on top here if you like—I sprinkled some more rosemary.

Bake at 400 for 25-30 minutes until golden brown on the top.