There is no better feeling than mastering a tasty new recipe and then indulging in its success. One item on my Homestead Action Plan is to successfully bake sourdough cinnamon rolls in my beloved cast iron pan.
I have to admit: I was a little nervous about this goal. Baking cinnamon rolls is a daunting task in itself, and I figured SOURDOUGH cinnamon rolls would involve additional levels of dexterity and fortitude. I was wrong, the difficulty is about the same, and I realized again the magic of a sourdough starter!
A sourdough starter uses wild yeast from the air and our surroundings—no store bought yeast required! Our forebears used sourdough starters to bake breads, tasty treats, and homemade recipes. Starters give the bread a better texture and flavor. I am carrying on this tradition by keeping and maintaining a sourdough starter in my kitchen.
My sourdough starter is stored in a quart-sized wide-mouthed canning jar in my fridge. I feed it once a week to keep it alive. The process involves dividing the current amount in half, feeding one half and using the other half, called a "discard," in a recipe. It must be divided or it would double in size with every feeding. I use the discard to bake tasty breads and crackers along with other goodies.
I remember flipping through old family recipes and wondering "What the heck is a sourdough starter?"
Now I know: Starters are alive and can be passed down through generations. I plan to pass mine to my kin and share it with family and friends! I'm bringing this old science back to life and feeding these family traditions by accomplishing my goals in my Homestead Action Plan.
My first successful sourdough recipe was my sourdough English muffins. They are now a Gubba Homestead weekly staple because I bake a batch every week using my sourdough discard—they are incredible! Store bought English muffins pale in flavor and texture compared to homemade sourdough English muffins. My stomach also feels at ease after consuming my handmade English muffins—store bought not so much. I found this is also true with my cast iron cinnamon rolls—my stomach doesn't ache after consuming a couple.
The human body can more easily digest sourdough that has fermented overnight, a process that breaks down the grains. I definitely feel and notice a difference.
I am completely infatuated with cast iron cooking because of its versatility. One night I'm baking a cast iron pizza; the next morning I'm making easy cast iron cinnamon rolls! Making cinnamon rolls is an overnight process, like making English muffins.
I used to skip recipes that required the dough to sit or rise overnight, but now I realize it makes the baking process so much easier! Prepare half of the dough the night before, let it sit and ferment, then start back up the next day! I'm now more inclined to give no-knead and overnight breads a try after working with sourdough. I love to simplify the following day's work.
A special ingredient in this recipe is heavy whipping cream. The pre-baked cinnamon rolls are soaked in heavy whipping cream as they rise and then bake in the cream! The cream ends up caramelizing, leaving caramel cinnamon gooey goodness! I definitely recommend this, but you can skip it altogether.
I love cinnamon rolls, and these sweet sourdough cinnamon rolls are one of a kind! I don't have to mess around with yeast in this recipe, as my starter comes packed with natural yeast. I'll never have to buy yeast from the store again as long as I properly care for my starter.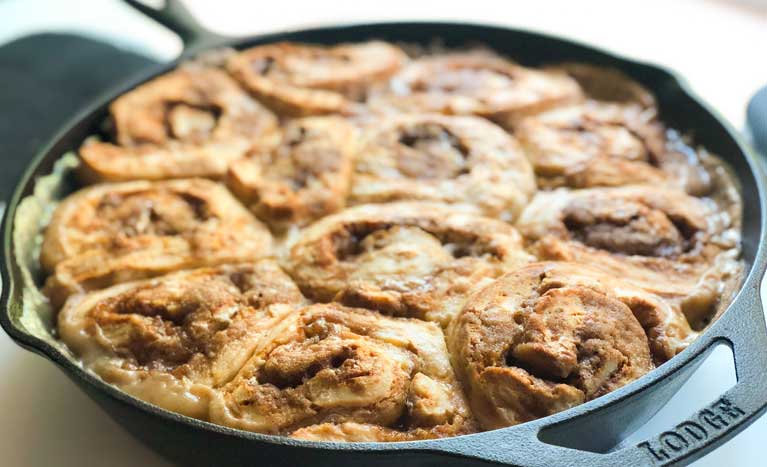 Sourdough Cinnamon Rolls
There is no better feeling than mastering a tasty new recipe and then indulging in its success.
Ingredients
1/2

cup

fed sourdough starter

1/2

cup

water

4

cups

all-purpose flour

1/2

cup

vegetable oil

1/2

cup

honey

1

egg (room temperature)

1

tsp

baking powder

1

tsp

baking soda

1/2

tsp

salt

1/2

cup

butter, softened

2

tbsp

cinnamon

2

tsp

white sugar
Cream Cheese Frosting:
4

oz

cream cheese, softened

1/2

stick butter, softened

1

tsp

milk

1 1/2

cup

powdered sugar

1

tsp

vanilla
Instructions
Mix together your fed sourdough starter, water, flour, oil, and honey in a large glass bowl. Form into a ball. Lightly grease the bowl and leave covered for 12 to 24 hours so the dough can rest.

Add the egg, baking powder, baking soda, and salt to the dough, and mix together with a dough hook or your hands. The dough should not be overly sticky but should form together enough to be rolled out. If it's too wet, add a tablespoon of flour at a time and mix together until the dough is not sticky but not crumbly. If it's too dry, add a teaspoon of water to the dough until it is not crumbly and forms together as a ball.

Roll the dough out on a lightly floured surface, to about 1/4 of an inch thick rectangle.

In a separate bowl, mix together the softened butter, cinnamon, and white sugar. Using a kitchen brush or your hands, spread this mixture over the top of your rolled out dough.

Tightly roll the dough up and cut the roll into 12 even roll sections. Place these rolls onto a well-seasoned 12-inch cast iron skillet.

Pour the 1/2 cup heavy whipping cream into the skillet and allow the rolls to soak in the cream and rise for 30 to 60 minutes in a warm place.*

Bake the rolls at 375F for 15 to 20 minutes until the tops of the rolls are golden brown.

While the rolls are baking, combine the cream cheese, butter, milk, powdered sugar, and vanilla together to make the cream cheese frosting.

When the rolls are done, allow them to slightly—but not completely—cool, and frost them with the cream cheese frosting.