I made the MOST DELICIOUS salad, so let me share this tasty Asian salad recipe with you. The secret is in the sauce, literally. I'm not a salad person because they seem bland and I'd rather eat something like my cast iron skillet pizza, but this salad has become a weekly go-to for me. Not only is it healthy, but it's easy to make!
Recently, I made my garden vegetable stir fry and I needed to pair it with a salad. I remembered eating at a stir fry restaurant a long time ago, and their side salads were amazing. This memory inspired me to make my own tasty Asian salad, and it was absolutely delicious. I went out on a whim because I don't generally make salads, but I did my best to remember what this restaurant's salad tasted like. Mine tasted even better than what I remembered!
The salad consists of romaine, purple cabbage, green cabbage, carrots, celery, edamame (or soybeans), cashews, cilantro, and crispy chow mein noodles. A healthy salad to say the least. Mix these ingredients together and drizzle with the dressing!
When I say the secret is in the sauce, I mean the secret is in the dressing. A salad with a bland dressing is a bland salad. I love peanut butter and spicy, so I made a spicy peanut dressing to pair with the ingredients in this Asian-themed salad. The ingredients for the dressing include peanut butter, rice vinegar, soy sauce, garlic, ginger, honey, lime, sesame oil, avocado oil, and red pepper flakes. Store the dressing in an air-tight container for up to a week and give it a good shake if the ingredients have separated. Separation is normal due to the oils used. Store the dressing separate from the salad, so the salad ingredients don't get soggy.
I ate this salad as a leftover for about two days after I made it. Now, I make it weekly and store it in containers for easy meal prep and ready-to-go meals for myself.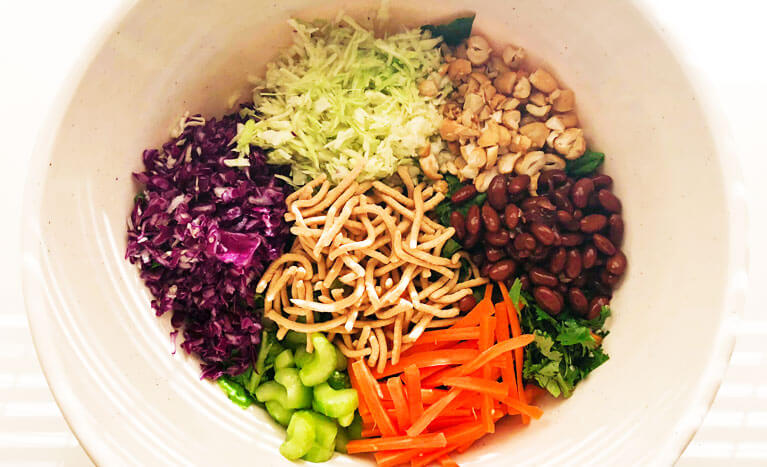 Healthy Asian Salad
I made the MOST DELICIOUS salad, so let me share this tasty Asian salad recipe with you.
Ingredients
Spicy Peanut Butter Dressing:
1/4

cup

creamy peanut butter

2 1/2

tbsp

rice vinegar

1

lime (juice only)

2

tbsp

soy sauce

3

cloves garlic, minced

1

tsp

ginger, grated

1

tbsp

honey

1

tsp

sesame oil

1/2

tsp

red pepper flakes
Salad:
1

head of romaine, chopped

1

cup

purple cabbage, shredded

1

cup

green cabbage, shredded

1

stalk celery, chopped

1

medium-sized carrot, sliced into matchsticks

1

stalk

celery chopped

1/2

cup

edamame or soybeans

1/2

cup

cashews, chopped

1/3

cup

cilantro

1/2

cup

crispy, chow mein noodles
Instructions
Whisk the dressing ingredients together in a small bowl and set aside. Combine the salad ingredients and drizzle the spicy peanut sauce on top.